Where Can I Check my State Tax Refund Status and Filing Information?
[Updated for 2015-2016 Tax Year] There is a lot of focus around this time of the year on folk's federal IRS tax return, but just as many people need to worry about one or more state tax returns. Every state varies with their local tax rules and refund processing timelines and I thought I would provide a consolidated list of links for the different states tax department websites where you can get all the state related tax and refund information. Most online tax software covers state regulations so you should be covered when filing your federal return through one of these providers, but for some of the more complicated returns the state's tax website is a useful reference source.
Also if you are wondering where you state refund is, then click on the links to the respective state tax websites below to get your state refund status. However you should wait 24 to 48 hrs after filing your federal and state return before trying to determine your state refund status since federal and state tax systems take a while to pass information between each other. You will generally need your social security number, mailing address. and refund amount shown on your tax return to be able to get your refund status information. See this article for checking your federal tax refund status.
State Tax Refund Processing Times
Processing times for state tax refunds vary by state, but as a guideline and assuming no issues with your tax return filing then you should get your return 7-14 days if you e-filed your return. For paper returns, it can take 6 to 12 weeks from the date you mailed your return to get your refund. So e-filing is clearly the way to go if you want your refund faster.
How Do I Check My State Tax Refund Status?
Wondering when your state tax refund will arrive? Just find your state on this list and follow the instructions to check your state tax refund status. Remember, most states with online tax refund status inquiry forms will require a Social Security or Taxpayer ID number and the exact refund amount you expect to receive.
P hone: 1-800-558-3912
Address: Alabama Department of Revenue, 50 North Ripley Street, Montgomery, Alabama 36132
Address: Juneau Commissioner's Office, PO Box 110400 333 W. Willoughby, 11 th Floor SOB Juneau, Alaska 99811-0400
Anchorage Commissioner's Office, 550 West 7 th Avenue, Suite 1820, Anchorage, Alaska 99501
Address: Arizona Department of Revenue Taxpayer Information & Assistance, PO Box 29086, Phoenix, Arizona 85038-9086
Address: Department of Finance and Administration, 1509 West 7 th St, Little Rock, AR 72201
Address: Franchise Tax Board PO Box 1468 Sacramento, CA 95812-1468
Address: Colorado Department of Revenue, 1375 Sherman St, Denver, CO 80261
Address: Department of Revenue Services, 25 Sigourney St, Ste 2, Hartford, CT 06106-5032
Address: Florida Department of Revenue Refunds Process, PO Box 6470, Tallahassee, FL 32314-6470
P hone: 1-877-423-67110
Address: Georgia Department of Revenue, 1800 Century Blvd NE, Atlanta, GA 30345-3205
Address: [Oahu] PO Box 259, Honolulu, HI 96809-0259
[Maui] 54 S. High Street, #208, Wailuku, HI 96793-2198
[Hawaii] 75 Aupuni Street, #101, Hilo, HI 96720-4245
[Kauai] 3060 Eiwa Street, #105, Lihue, HI 96766-1889
Address: Idaho Tax Commission, PO Box 36, Boise, ID 83722-0410
Address: Illinois Department of Revenue, Springfield, Illinois 62794-19007
Phone: [Automated Line] 317-233-4018
More Information: 317-232-2240
Address: Income Tax Processing, PO Box 10466, Des Moines, IA 50306-0466
Address: Kansas Department of Revenue, 915 SW Harrison Street, Topeka, KS 66625-2000
Address: Kentucky Department of Revenue, Frankfort, KY 40602
Address: Louisiana Department of Revenue, PO Box 201, Baton Rouge, LA 70821
Address: Income/Estate Tax Division, PO Box 1060, Augusta, ME 04332-1060
Address: Department of Revenue, PO Box 7010, Boston, MA 02204
Address: Michigan Department of Treasury, Lansing, Michigan 48922
Address: Minnesota Department of Revenue, 600 North Robert St, St. Paul, MN 55101
Address: Mississippi Department of Revenue, PO Box 1033, Jackson, MS 39215-1033
Address: Harry S Truman State Office Building, 301 West High Street, Jefferson City, MO 65101
Address: Department of Revenue, PO Box 5805, Helena, MT 59604
Lincoln Residents: 1-800-471-5729
Address: [Omaha] Nebraska State Office Building, 1313 Farnam St, Omaha, NE 68102-1871
[Lincoln] Nebraska State Office Building, 301 Centennial Mall South, PO Box 94818, Lincoln, NE 68509-4818
Address: Nevada Department of Taxation, 1550 College Parkway, Carson City, Nevada 89706
Address: Department of Revenue Administration, 109 Pleasant Street, PO Box 457, Concord, NH 03302-0457
Address: New Jersey Division of Taxation Information and Publications Branch, PO Box 281, Trenton, NJ 08695-0281
Address: Personal Income Tax Correspondence, PO Box 2788, Santa Fe, NM 87504-2788
Address: NYS Tax Dept. Division of Treasury, PO Box 22119, Albany, NY 12201
Address: North Carolina Department of Revenue, Post Office Box 25000, Raleigh, North Carolina 27640-0640
Address: Office of State Tax Commissioner, 600 E Boulevard Ave., Dept 127, Bismarck, ND 58505-0599
Address: Ohio Department of Taxation, PO Box 530, Columbus, Ohio 43216-0530
Address: Oregon Department of Revenue, 955 Center ST NE, Salem, OR 97301-2555
Address: PA Department of Revenue Taxpayer Service & Information Center, PO Box 280610, Harrisburg, PA 17128-0610
Address: Finance Department, PO Box 9024140, San Juan, PR 00902-4140
Address: Rhode Island Division of Taxation, One Capitol Hill, Providence, RI 02908
Phone: Charleston: 843-852-3600, Columbia: 803-898-5000, Florence: 843-661-4850, Greenville: 864-241-1200, Myrtle Beach: 843-839-2960, Rock Hill: 803-324-7641
Address: Charleston Service Center, 1 South Park Circle, Suite 100, Charleston, SC 29407
Columbia Main Office, 301 Gervais Street, PO Box 125, Columbia, SC 29214
Florence Service Center, 1452 West Evans Center, PO Box 5418, Florence, SC 29502
Greenville Service Center, 211 Century Dr, Suite 210-B, Greenville, SC 29607
Myrtle Beach Service Center, 1330 Howard Parkway, PO Box 30427, Myrtle Beach, SC 29588
Rock Hill Service Center, 454 South Anderson, RD Business and Technology Center, Suite 202, PO Box 12099, Rock Hill, SC 29731
Address: 445 East Capitol Ave, Pierre, SD 57501
Address: Tennessee Department of Revenue Andrew Jackson Building, 500 Deaderick St, Nashville, TN 37242
Address: Texas Comptroller of Public Accounts, PO Box 13528, Capital Station, Austin, Texas 78711-3528
Address: Utah State Tax Commission, 210 North 1950 West, Salt Lake City, Utah 84134
Address: VT Department of Taxes, 133 State St, Montpelier, VT 05633-1401
Address: Virginia Department of Taxation Office of Customer Services, PO Box 1115, Richmond, VA 23218-1115
Address: Washington State Department of Revenue Taxpayer Account Administration, PO Box 47476, Olympia, WA 98504-7476
Address: Office of Tax & Revenue, 1101 4 th St SW Suite W270, Washington D.C. 20024
Address: West Virginia State Tax Department Taxpayer Services Division, PO Box 3784, Charleston, WV 25337-3784
Address: Wisconsin Department of Revenue Individual Income Tax Assistance, PO Box 8906, Madison, WI 53708-8906
Address: Wyoming Department of Revenue Herscher Bldg, 2 nd Floor, West Cheyenne, WY 82002-0110
Where Can I Check My State Income Tax Return Refund Status?
A lot of filers who don't itemize have already filed their taxes, and if they're expecting a refund on their tax dollars, they're probably waiting expectantly to see how much they'll be getting back.
Today I thought I'd give a helping hand by putting together a few resources that may be helpful in figuring out your state income tax return status.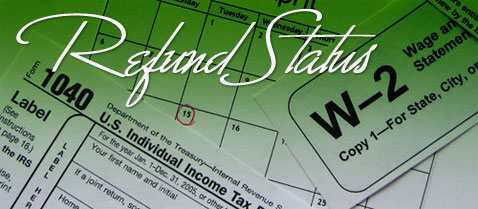 IRS Federal Tax Refund Status Information
If you e-filed your taxes, 72 hours after the IRS gives receipt of the return that you e-filed, you can go to the IRS site and check the status of your tax return. Paper filers may have to wait up to 4 weeks.
IRS Site -Where's My Refund?
Call 1-800-829-4477 (24 hours a day, seven days a week for automated refund information)
If you're a smart phone user, the IRS also has Android and Iphone apps available this year to check the status of your federal return.
State Income Tax Refund Status Information
If you're expecting a refund on your state taxes as well, you'll either need to check your state's website for the department of revenue, or in some states – give them a call. Each state has a different place to check state income tax refund status, unfortunately there isn't one clearing house to find them all. So we found this extensive list of all the state revenue websites for your reference. Find your state in the table below and follow the link (or call) to check your refund status.


Mark C on Watch TV For Free On Your Devices Using PlayOn Media Server
Mr. Money on How To Watch TV For Free Or Cheap Without Paying For Cable
Edie Sweetie on How To Watch TV For Free Or Cheap Without Paying For Cable
Mr. Money on How To Watch TV For Free Or Cheap Without Paying For Cable
John Sanders on How To Watch TV For Free Or Cheap Without Paying For Cable
David Toops on How To Watch TV For Free Or Cheap Without Paying For Cable
The information contained in SmartOnMoney.com is for general information or entertainment purposes only and does not constitute professional financial advice. Please contact an independent financial professional for advice regarding your specific situation.
In accordance with FTC guidelines, we state that we have a financial relationship with some of the companies mentioned in this website. This may include receiving access to free products and services for product and service reviews and giveaways.
Any references to third party products, rates, or websites are subject to change without notice. We do our best to maintain current information, but due to the rapidly changing environment, some information may have changed since it was published. Please do the appropriate research before participating in any third party offers.