Why Did My Home Owner's Insurance Go Up?
Homeowner's insurance provides coverage for your house and contents. In states like Texas, homeowner's coverage starts high and goes higher. Texas had the highest homeowner's insurance in the nation in 2010, according to Shawn Nordstrom in a November 2010 article at Live Insurance News. States regulate homeowner's insurance, approving the policy language and rates. One solution to rate increases suggested by Forbes.com and similar money-management websites is to shop around for your homeowner's coverage. High price does not necessarily give you better insurance.
Homeowner's insurance comes in three basic types. HO-1 is too basic, and some states and companies no longer use the form. It covers 11 items or perils and no others. HO-2 includes the 11 basic perils and 6 more for a total of 17 perils. HO-3 provides better coverage for the home and contents and is more expensive than the HO-2. HO-3 covers 17 perils and any others it does not specifically exclude. Exclusions might include flood, earthquake, war and nuclear accident. Some states use variants of these numbers, with form policies approved by the state insurance commission. The more inclusive the policy, the more it costs.
Your homeowner's policy costs will go up based on certain risk factors. Premium calculations are based on location, sometimes down to the county or city, and the distance from a fire hydrant. So, if those risk factors changed in the past year, you could see a premium hike. The Federal Trade Commission reports that auto and homeowner's insurers use credit scores for determining insurance costs too, because better credit scores represent more stability and less risk, according to Realtor.com. If your credit scores have decreased, your homeowner's insurance premium may increase.
Most policies increase the policy limits based on inflation rates. Your premium cost goes up each year, but so do your coverage limits. If you have a replacement cost insurance policy instead of actual cash value, premiums will increase with the cost of construction materials. Actual cash value considers depreciation and age of the home and contents; replacement cost considers only the cost of replacing the item in today's market.
The Comprehensive Loss Underwriting Exchange database retains records of information about any claims you make and sometimes even your telephone calls to your agent asking about a claim. Homeowner's insurers use C.L.U.E. reports for your claims history to evaluate your likelihood of making a claim. If you have made a claim in the last seven years, C.L.U.E. has it in the database, and the insurer rates your policy premium based on the report. A recent claim will cause your homeowner's insurance to increase.
If your premium increased, and you don't know why, your insurer may have requested and received a rate increase from your state of residence. Check with your state insurance commission online, or call the office, to see if your insurer has an approved rate increase. Also, compare your policy with last year's insurance for additional coverage limits. Increased limits may explain part of the increase. If you're still not sure, call your insurer and ask why your premium increased, and if you are not satisfied, you may want to begin shopping for other coverage. Call other companies and request a quote in writing to compare prices. Review policy terms and check with your state insurance office for tips for purchasing homeowner's insurance in your state.
Why does my car insurance go up every renewal period?
Car insurance companies base annual premium rates on a number of factors that are regulated by federal and state laws, which are strictly enforced. Each insurer must prove on a quarterly basis that they are solvent and able to pay all of their business obligations. Most insurance companies are experiencing the effects of external environmental and market factors that are driving up costs. Don't be surprised by the change in premiums! Enter your ZIP code into our ZIP code search and compare car insurance INSTANTLY for FREE!
Contrary to common belief, insurance companies are not allowed to invest in the stock market or other high-risk, high-yield investments that would supplement their cash flow. The insurance company's primary source of income is the money paid by their customers in premiums, and the way to increase their income and remain solvent is to raise the annual premiums they charge. Find the best car insurance companies with our FREE ZIP code search!
Factors that make up the specific rate charged to the individual can change and escape the memory of the insured. All of these factors must remain consistent to prevent impact on the annual auto insurance premium.
Loss of car insurance discounts – Certain discounts are based on professional groups, driver training and other situations that can change over time.
Drop in credit score – When the insured's credit score drops dramatically, the insurance company will raise the rate to mitigate their own risk of non-payment of premiums.
Different automobiles – If cars are added to or removed from the policy, the premium will change.
Driving record – Moving violations and accidents will have an impact on the premium charged.
Location – If the insured relocates into an area with higher crime rates, the zip code in the address will trigger a change in the annual premium charged to the insured.
When the annual premium changes after the first term, the rate advertised might have been a teaser rate to win new customers for the insurance company. This fact will be clearly stated in the policy documentation and should be investigated prior to contacting the customer service department to file a complaint. Most introductory rates are available for the first six months that the policy is in force, and then the premium changes to the standard rate, which is comparable to other companies.
Not Qualified for Longevity Discount
Customer loyalty is rewarded after many years of consistent business with the same insurance company. Each policyholder is slowly moved into this group after sustained good driving record, good credit and clean driving habits are established under the same auto insurance policy.
Even if the insured has not had any accidents, the previous year's accident rates in the area will directly impact the insurance premiums. Various factors cause increases to accident rates including inclement weather and very large road construction projects. The cost of repairs and replacement after accidents presents additional expenses to the insurance company, and annual premiums will be increased for the policyholders in that location. Check accident statistics to help you get an idea of how much insurance will cost.
When one insurance company sustains large losses in a given geographic area due natural disasters, such as a tornado or hurricane, the policyholders in that area will see increased auto insurance rates to offset the insurer's expenses. The insurance company must remain solvent according to the law, so rates will rise to pay for the increased number of claims.
Area rates of automobile-related crime are part of the risk calculation that insurance companies use to set annual auto insurance rates. Rises in the number of cars stolen or vandalized in a given area will cause the insurance company to raise the auto rates to cover the cost of insuring cars in that area. One way to offset this particular impact on the auto insurance rate is to use theft-resistant security devices and informing the insurance agent of this addition.
When state laws change to include no-fault rules for auto insurance, some insurance companies will raise their rates for every policyholder in that state. This will vary based on the insurance company's experience in other no-fault states. If claims statistics do not indicate a need to increase premium rates, some insurance companies will wait to change their rates until the need arises.
Each automobile model year will have an impact on the average cost of car insurance coverage across the nation because new cars are expensive to repair and replace. The entire insurance pool will pay more for the cost of new cars on the road. Insurance is designed to spread the risk across large numbers of people so all rates must increase when the item being insured becomes more expensive.
Actual repair costs are tracked by every insurance company, and then the company-specific and industry costs are studied each year. When the overall cost of repairs rises, the annual premium paid by that automobile class must be increased to keep the insurance companies solvent. Repairs are more common that total replacement of vehicles, so this statistic can have a substantial impact on the auto insurance industry.
One aspect of insurance regulation is that insurance premiums must be applied to an entire class of people and not an individual. When a policy holder contacts the customer service department about an increased auto insurance premium, a common response to the query is that the rate went up for everyone. This statement can seem like a brush off by the agent, but this answer is valid since everyone that falls into the same class will experience a rate increase if anyone does. The size of the rate increase can vary within the class based on individual factors, but all of these factors must be documented prior to the change. Save money on your car insurance renewal by comparing car insurance quotes for FREE with our ZIP code search! Enter your ZIP code and compare quotes INSTANTLY!
When insurance fact sheets are mailed out in the middle of the policy term, the insurer is announcing upcoming changes that the policyholders must read. Changes to the terms of an insurance policy will occur in the next policy period, and the insurance company is required to notify all policyholders in the class prior to changing the premium rates. Some rate increases can be anticipated by realizing the reason for receiving mid-term documentation about the policy. Find affordable car insurance by entering your ZIP code into our FREE ZIP code search!
Why Did My Auto Insurance Rates Change?
You probably expect your insurance rates to change if you've gotten speeding tickets or had at-fault accidents. But rates can change even when you have great credit, a flawless driving record and haven't ever filed a claim.
Why? The price you pay for auto insurance depends on unique personal variables that can change from year to year. Some factors, such as the car you drive or how much coverage you purchase, are within your control. Others, like your age or the cost of repairing your car if it's damaged, aren't.
So if you're wondering why your rates went up or down, consider these possibilities:
Changes In Your Policy
Even making a minor change to your policy can affect your premium. While raising your deductible may lower your premium, for instance, adding another vehicle or another coverage like towing and roadside assistance might cause it to rise.
If you altered your payment plan, meanwhile, you may have gained or lost a discount in the process which will affect your premium.
Changes In Your Driving Record
Statistics show that an at-fault accident increases the odds that you'll have another within the next three years. Many companies adjust insurance prices to reflect the added risk during this period of time, but you'll typically pay far less in added premiums than it would cost to settle your claim without coverage.
Changes In Your Life
Life events can change the way insurance companies evaluate risk:
Moving: It's more expensive to insure a car in crowded cities than in rural areas, but accident rates vary even by ZIP code – simply moving from one area of a city to another can affect the price of your insurance.
Birthdays: Studies suggest that individuals are more likely to have an accident toward the beginning and the end of their driving careers, so getting a year older could be a factor in lower or higher insurance rates.
Weddings: Data suggests that married people are less likely to cause accidents than single people, so tying the knot might lower your insurance bill.
Changes In Your Costs
External factors beyond the control of consumers or insurance companies also influence the price of your coverage:
Advanced technology: Expensive new features keep you safer, and lightweight aluminium bodies improve fuel economy, but both increase the cost of repairs after an accident.
Strong economies: With high employment rates and low gas prices, people are driving much more and accident rates have risen – increasing the risk for even the best drivers.
Inflation: The overall rate of inflation is low, but the cost of materials used to repair cars and medical care continues to go up over time.
Farmers strives to charge a fair price that accurately reflects each aspect of your risk profile; we also work to maintain stable pricing by negotiating rates with vendors, fighting fraud and opposing regulations that increase our costs.
Auto Insurance Myths
Myth #1: Insurance should cost less because cars have gotten safer.
The technology making cars safer also makes them much more expensive to repair. And it will be some time before autonomous driving systems are widespread enough to reduce injury and fatality rates that have risen as a greater number of cars are driven a greater number of miles.
Myth #2: Insurance companies raise prices to make more money.
Insurance companies set prices that closely match what they expect to spend in claims and expenses. In some areas where the accident rate and claims costs have risen dramatically, many companies don't make any profit from premiums, and are raising rates to lose less money.
Myth #3: My car should cost less to insure as it gets older.
The majority of an auto insurance premium pays for liability coverage—in other words, what it will cost to repair the other car and provide compensation to people involved in an accident. Also, older cars have fewer safety features, are made of heavier materials that cause more damage, and require unique skills to fix, or have parts that are harder to find.
Myth #4: Insurance companies will raise my premium to recover money spent on my claim.
This is against the law. An insurance company cannot charge you for the money it spent to settle a claim. However, accident history is predictive of future accidents, which is why many insurance companies may surcharge your premium for a few years following a loss that you caused.
Myth #5: If I didn't cause the accident, my insurance company won't have to pay for any damage to my car.
This isn't always true. In some states, if your policy includes coverage for damage caused by uninsured/underinsured motorists, and the person responsible was either unknown or underinsured, your insurance company may end up paying for repairs. If you live in a no-fault state, your company will pay for damage to your car because it pays for those repairs regardless of fault.
Myth #6: I should only have to pay for insurance when I need to make a claim.
Purchasing auto insurance is a way to share risks with other people like you. Everyone contributes relatively small amounts so that no one faces catastrophic out-of-pocket expenses when the unexpected happens.
The information contained in this page is provided for general informational purposes only. The information is provided by Farmers and its partners, and while we endeavor to keep the information up to date and correct, we make no representations or warranties of any kind, express or implied, about the completeness, accuracy, reliability, suitability or availability with respect to this article or the information, products, services or related graphics, if any, contained in this article for any purpose. The information is not meant as professional or expert advice, and any reliance you place on such information is therefore strictly at your own risk.
Why Do My Auto Insurance Rates Go Up?
Over time, auto insurance rates tend to rise. It's inevitable. Some rate changes you have absolutely no control of, while some, on the other hand, are completely on you. Let's take a look at some of the things that may cause your insurance premiums to increase over time: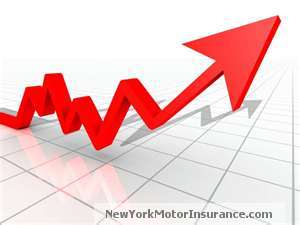 It's OK to get into an accident every once in a while, especially if the accident is not your fault. Most insurance companies understand this and will not raise your premiums based an accident you are ruled to be not at fault in. In fact, many insurance companies have "accident forgiveness" programs where they will even "forgive" you for your first accident even if it was your fault.
It's when you make too many claims over a short period of time that really raises a red flag with the insurance companies. If you are ruled to be not-at-fault in these accidents, the insurance companies will tend to be more lenient with your rate changes. If you are ruled to be at-fault, you can definitely expect your insurance premiums to rise.
Many states, like New York, have laws regulating the insurance industry. These laws impose limits on how much car insurance companies can charge for premiums. These are put in place to protect the consumer from outrageous insurance bills.
Sometimes, however, legislation may get passes and these laws may change. Because of this, through no fault of your own, you might get stuck paying higher insurance rates.
Auto insurance companies do look at your credit score when determining your premiums. If your score drops, you might see your insurance bill reflect your new credit standing. The reason insurance companies look at your credit score when determining your rates is because it gives them a good idea at how trustworthy and reliable you will be when it comes to paying your bills on time, filing claims, etc. To be viewed in a more positive light by insurance companies, always keep your credit score high.
If you are part of a family and add your children or other family members to your policy, your premiums might increase. This is especially true if the new drivers added to your policy are deemed to be "high risk." High risk drivers are usually one or more of the following – young, inexperienced, elderly, and/or have a bad driving record.
The same is true if you happen to add a new car to your policy. Make sure the vehicle has a solid vehicle history report as well as a high safety rating. Luxury cars, sports cars, and cars expensive to repair will always cost more to insure and therefore will result in an increase in your insurance rates.
Rural areas tend to have lower insurance rates than urban areas. There are many reasons for this, but the most notable ones are: less congestion, cleaner roads, and less crime/vandalism. If you recently moved from Queens to Long Island, for example, expect your insurance to drop. If you moved from Rochester to Manhattan, on the other hand, expect an increase.
Remember, if your insurance company continues to raise your rates, you are always free to seek out a new provider. Once your policy expires, you are not contractually obligated to continue purchasing insurance from that same company.
Consider comparing rates from other auto insurance companies to make sure you are not paying more than you need to. To start your comparison, scroll up to the top of this page and enter your zip code. After filling out our brief two page form, you will be given multiple quotes from the most trusted insurance companies.
No New Yorker wants to overpay for car insurance. Check out these tips below to make sure you are paying as little as possible for your auto insurance policy.
Buy a New or Safer Vehicle
Maintain a Safe Driving Record
Check Insurance Costs for your City or Borough
Move Closer to Work
Bundle Auto Insurance with Other Policies
Install a Theft Deterrent or Alarm
Leverage Age, Marital and Academic Discounts
VIEW MORE TIPS
Want to know what's new on New York Motor Insurance? Here's what:
To read more about auto insurance in the state of New York, please read all of our helpful guides below.

Ready to lower your insurance costs right now? Enter your zip code in the field below:
Why Do My Auto Insurance Rates Keep Going Up Even Though My Car Keeps Getting Older?
Why do my auto insurance rates keep going up even though my car is getting older? At Main Line Risk Management, many of our clients ask this question so I would like to address it from a couple of angles.
First things first, even though it's called car/auto insurance, it covers more than just your car. It should technically be called "auto-owners" insurance, similarly to how home insurance is actually called "home owners insurance".
It's important to understand that there are a lot of variables that go into insurance premiums, and with auto insurance, it's no different.
The insurance company is much more concerned with you crashing into someone and causing them (or yourself) bodily harm, or death, than they are about your car. A car is a material possession which can be replaced.
A human life is not.
When is the last time you looked at your auto insurance policy?
If you look at it you'll notice there are a lot of different coverages on your auto policy.
These are all things that you are covered for on your auto policy. How many of them have to do with your car?
How many of them have a price next to them on your policy?
Your car isn't the only thing you're being charged for on your policy
That's because auto insurance covers far more important things than your car as mentioned above.
Let me re-phrase that: your car insurance rate isn't just based on your car.
You're not the only one…
It's also important to understand that you are not the only person your insurance company insures. You are one fish in an ocean of other fish, sharks, and sea creatures, all who have different characteristics and risk profiles.
Insurance is all about spreading costs over a large number (risk pool) of people, which each person paying their fare share. That risk pool is constantly changing, and is impacted by a ton of different things, including the overall economic climate.
This means that you are sharing in the cost of millions of other people, many of whom may have poor loss history and/or credit.
That's what insurance is though — sharing in the cost.
The next time your auto insurance rates go up, take a look at the big picture. Make sure you're looking at ALL of the coverages, and corresponding rates.
Hope this helps! If you would like to know more about Car Insurance be sure to visit our page dedicated to it.