Why your bank can break up with you
There are the customers who bounce checks, constantly overdraw their accounts, commit fraud or otherwise lose the bank money. Those are the easy ones to get rid of.
But then there are the customers who fall into a gray area.
Banks are urged by federal law enforcement agencies and regulators to close questionable accounts -- or else risk getting hit with penalties. So they often end up shutting accounts even when a customer isn't doing anything explicitly illegal.
If a customer is merely involved in an industry considered high risk or engaged in an unpopular or "unsavory" line of work, a bank may deem it safer to cut off the relationship, according to Robert Rowe, senior counsel at the American Bankers Association, which represents the nation's largest banks.
"[The government] is putting us in a position where we're expected to be the judge, jury and prosecutor," Rowe said.
In guidance to banks, the Federal Deposit Insurance Corporation lists 30 business categories that have been linked to "high-risk activity," including gun sellers, home-based charities, payday loans, dating services, escort services, fireworks suppliers, cable box de-scramblers, coin dealers, credit card repair services, gaming and gambling websites, and telemarketing companies.
Another category on the list: pornography, which became a hot button issue recently after news reports said that "hundreds" of porn stars suddenly had their bank accounts closed by Chase (though a source close to the matter said Chase doesn't have a specific policy prohibiting porn stars from having bank accounts).
When you open a business account, banks can determine if you are in a "high-risk" industry by running a background check and continuing to monitor the types of transactions that are made once the account is open.
The FDIC also recommends that banks look at the volume and nature of consumer complaints filed on websites like the Better Business Bureau. A company that requests a large number of returns or charge backs (which often occur when a customer is dissatisfied with a purchase), should also raise red flags, according to the FDIC.
Other reasons for heightened suspicion: customers who give unclear descriptions of their businesses when opening accounts, as well as those who make multiple transactions that don't seem to make sense, according to Protiviti, a consulting firm that helps banks prevent money laundering, human trafficking and terrorist financing.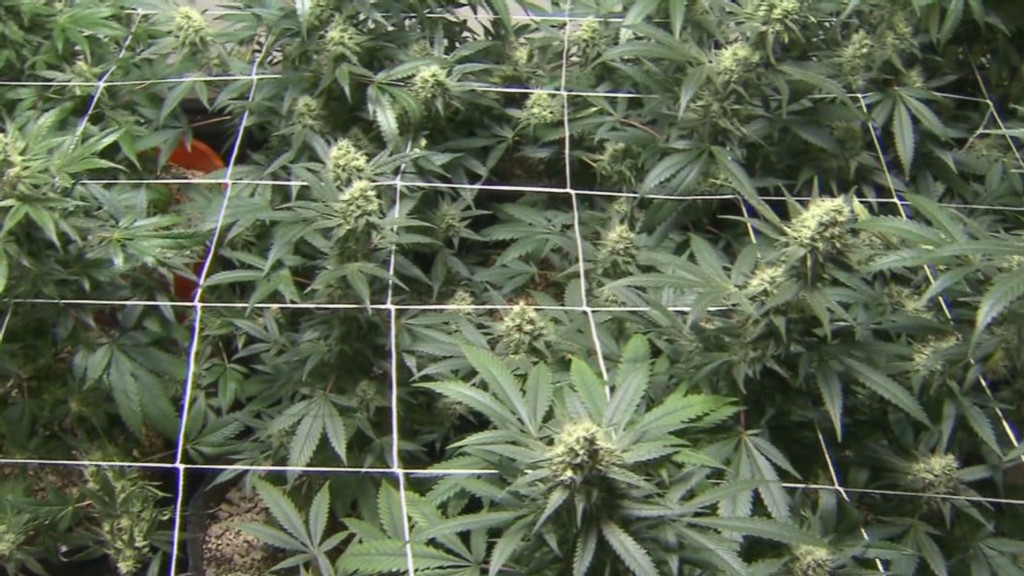 For personal accounts, there's a whole other set of warning signs that banks are looking out for.
Among them: If you have no record of current or past employment but make frequent, large transactions, you don't live or work anywhere near the city or state where you've opened an account, you have many accounts under a single name, you have past convictions on your record, or you provide phone numbers that are disconnected.
A sudden surge in account activity, consistently high volumes of transaction activity, multiple round-number transactions like $50,000 or deposits just under $10,000 (since banks must report anything above that amount to law enforcement), constant visits to safe deposit boxes and big purchases of valuable items like precious metals or fine art are some of the other forms of activity that could indicate fraud like money laundering, according to Protiviti.
What it all comes down to is that your bank reserves the right to shut your account at any time, for any reason. And because the institution is held liable if an account ends up being connected to fraud or damaging the reputation of the bank, it is often going to take a "better safe than sorry" approach, said John Ulzheimer, credit expert at CreditSesame.com.
"Nobody has the right to a credit card, a bank account, a debit card or a merchant account," said Ulzheimer. "You have to earn it and the banks set the rules. If you are what they perceive to be too risky, they'll shut you down and you have no recourse."
Chase Closed My Account Without Notification
Sometime in January, I received convenience checks from Chase Bank for my credit card. As I had not received a statement from Chase as of today, February 11, 2008, I called Chase customer service to inquire about my account.
Reply
Our chase checking account was restricted without any notice as well.
We had this account for 13 years (started when it was Washington
Mutual bank). I was an loyal customer in every way, direct deposit
two pay checks, home mortgage with chase, credit cards, ATM cards and
the whole deal. All of the sudden they decided to close my account.
When asked why, both by phone and going to their branch, I was told
they can not tell me why. I will spread the news on face book sites
and all my friends and family that Chase sucks big time.
Reply
On November 29, 2010, I got an email from Chase Bank saying I was in
the negative $999,999.00, not only on my own account, but my mother's
account where I am only power of attorney and also my daughter's
account. This was nearly a hold of a total of 3 million dollars!
Thinking it was a mistake or clerical error, I tried to find out what
was going on and was told to call a number given to me. I called, more
than once, only to be told that Chase could close anyone's account
when they wanted for any reason or even no reason. But they didn't
close my account, only put a "restriction" on it and the others. I had
no prior notice to it and had written checks to pay my bills with over
$1000 in the account when I did. They refused to pay the checks I had
written and the money was in the bank to cover them. They were sent
back when they tried to clear after the 29th, with "refer to maker" on
them which ultimately either they were turned over to the prosecuter
(even after I had talked to someone about the situation at the
business), were attached fees and sent to me of the notice of the
"bad" check I wrote and the additional fees, or they tried to return
them to the bank for payment again and sometimes twice more due to
their collection of "bad" checks. I received a letter saying that they
would "close" all the accounts, even my mother's because it was linked
to my social security number since I was her POA, 10 business days
from the letter. Instead, they have continued with their restriction,
allowing my automatic deposits to be consumed and held, even though
they said they would reject them as well and I couldn't stop them in
time from depositing, so I have had no money for over two weeks now,
as my social security is my major income as well as my mother's both
being deposited on the 3rd of the month. I have pleaded, cried, and
yelled trying to get our money unfrozen. All my deposits cleared and
now are sitting on hold in the bank. I have utilites I can't pay as
well as my mortgage. My credit card payments are late so my credit
rating I worked so hard for is shot. I have no gas to go anywhere
including work, no food to eat, no food to feed my animals, and also
no phone as they shut off my phone when the check I paid them returned
to the phone company, even though the money was sitting in the bank to
pay it when it was written and still is. I can't even get minutes for
my cell phone. My mother is elderly and I have to keep in contact with
her. I have no money for Christmas. What do these people think I did
that was so wrong to close my accounts? Did they have a right to do
this to my mother's money also when I'm not even on her account, only
her POA? They say they won't close it until there is NO activity and
people keep sending the check unpaid back through trying to get their
money so the 10 day period was also a lie. WARNING: Get your money out
of Chase Bank if you value your money and your credit rating. I am
still in tears over this matter and sitting here with no money to use
Chase closed my credit card account(s) [Consolidated]
If you feel your account has been unfairly closed, consider filing a complaint with the Consumer Protection Financial Bureau:
1, 55, 80, 108, 117, 129, 146, 165, 182, 212, 221, 222, 232, 235, 262, 272, 281, 326, 364, 410, 411, 428, 475, 477, 482, 513, 552, 586, 620, 648, 656, 662, 714, 718, 784 and 815.
055 - brettskyg chase gift cards tiny ms
080 - Artemk checking chase gift card, tiny MS, international wires, wall-mart BP
108 - TTnc4me (105 actually) no info
129 - Kybosh chase gift card checking
146 - mintcilantro - checking 6k/month MS, BB payments from another ss#, some MO/AP, 7new cards in 90days, short cycling
165 - newcomr - checking
182 - thehawk75 - heavy MSw/other banks,
212 - LRD - 2x spend of 20k /month (on two cards), checking
221 - iceman 77_7, no info
222 - jk2 no info
232 - hitman1420 checking , heavy MS activity (no number)
235 - clearlyanewb checking, MS activity (10k AGC and more), light credit history, 10 recent inquiries
262 - brc01 - shortcycling, some MS (18k/month over a few cards), 1
272 - rambo - 70% MS on 5 cards, WM BP of 16k/month on 5 cards
281 - prestonv - heavy MS - 20k/month on multiple chase cards, heavy WMBP (ink stayed open)
326 - pacupgo - false alarm, no shutdown
364 - edh101985 - tiny MS (bonus only) , 4 chase cards in 6 months,
410 - msetr - lots of freedom/ink ms
411 - standaman360 - international wires (business), million dollar balances,
428 - queensgambit - gambling transactions, UR point transfer from SO, 5 chase apps 3 new chase cc in 45 days, Blogger points coach
475 - dogloverjb - checking, international wires,
477 - ftomasz - 14 inquiries in 8 months, 5 chase, minimal MS, rapid upswing in credit, paying from multiple accounts
482 - liw5215 - Heavy MS, re-entered after 13 months
513 - thegasguru - checking, $3k/month MO to checking, NO MS, AP,
552 - LAXtoWorld - 3 cards in 30 days
586 - adavydov7 checking, $1k APs,
648 - CMHFlyerOH - checking, MO, 3k gift cards
656 - I can see for miles - Maxed UR 5x rewards on Freedom and Ink cards. Chased closed all accounts. Was approved for Ritz Carlton card 14 months later and did nothing unusual with it, other than lower CL from 30K to 10K to free up CL for possible approvals. Two subsequent Chase apps (Chase Ink and Marriott Rewards), on separate dates 3+ months later, were declined for a "previous unsatisfactory relationship . "
662 - frogdog51 - Chase VGCs (Reapproved in 12 months)
677 - Subdawg - closed for piggybacking
714 - Mamibear - 'abuse' redcard MS
718 - maxswanson - MS, 11 chase cards, traded UR, (reapproved after 12 months)
752 - peaser - "reputational risk" associated with the business (decision reversed later)
757 - uncommonsensical checking, 3 Cashier's Check deposits with quick w/d (the w/d were to pay CHASE credit cards! ridiculous 'loss prevention' dept. gods). All CC's closed 2 days later. Tried EX Office- they seem to have zero power once the Mullah in loss prevention has issued a fatwa (my guess: some 27 year old with a god complex).
762 - knopfler - checking closed (all credit cards closed in both mine and Mrs. Knopflers accounts about three weeks after checking closure)
771 - milemonkey - 'reputational Risk" connected to Attorney General lawsuit
784 - unstable one: 2 cash deposits over 10k to chase checking
815 - dukerau - one time UR point sale, 77% spending is 5x,
why does my chase account say n/a
Brooklyn cinematographer Yosef Shidler is suing JPMorgan Chase Bank for closing his business account and freezing assets. Update: Chase Bank has contacted Shidler and said they "made a mistake" in closing the account.
By COLlive reporter
Ps thanks Yosef for being a consumer advocate.
Bh I was able to switch to TD easily. It's time TD opens a branch in ch
Advice: This will add years to your life in lost stress. Deal in cash. Don't use any bill pay or direct deposit. Never leave too much in your account. Invest it. And diversify.
BTW to numbers 6 and 7 chase is a NA or national association and a quasi federal institution and subject to laws that a regular businesses don't have. It is also a breach of implied contract. And of course bad business.
They take advantage of their customers, and then they cry when they get a taste of their own medicine.
Apple bank there is no one to talk to.
How can this be ok? You entrust your entire financial life with an institution and then they turn around and keep it? What if we lowly citizens tried the same thing with our mortgage? Or car payment? Or student loans? WE get penalized. It's about time THEY BE HELD accountable for their actions!
Went to my local Chase branch. My banker and the local branch were not informed at all. The banker tried to help me find out why since she and the manager reviewed my history and did not find anything negative at all. Through the speaker, we were told the same thing, No reason given, Chase has the right to close any accounts they do not want to keep. We spent 1hr on the phone but never found out why there are no notifications, no warnings and no reason. Chase refused to give any.
Halfway thru the phone call, Chase restricted and closed my other 2 savings account. My banker called back and asked why did they do that when it is stated that they are only.closing the checking. "We have the right" was the answer.
My banker said the only thing they might fault me on is I have been transferring through the bank monthly allowance to my parents $500/mth or 1k/mth max. GEEZ, I have been giving them allowance for the last 10years since I started working. I cannot afford flying back every month just to give them monthly allowance! I thought banks are to make lives easier and convenient?
Chase also threatened that they might report the closure of accounts to relevant agencies so that I can never get any accounts opened by other banks. REPORT ME FOR WHAT? Is transferring money to my parents wrong? If that is the reason, the bank is telling me that I shouldn't take care of my parents?
Avoiding Chase Bank Checking Account Monthly Fees
In the last few months we have been learning of the new monthly fees at Chase Bank and the new rules that make avoiding them harder. The easiest way to avoid monthly maintenance fees at Chase is to switch to internet banks, community banks or credit unions which offer real free checking accounts. Don't forget that the vast majority of reward checking accounts are also free checking accounts. However, in my last post on Chase Bank, several readers noted some reasons why they still want to keep their Chase checking accounts. One reader praised Chase's ACH system and bill pay:
I still bank with Chase, they have the fastest ACH system around and no holds on the funds like Ally does. Bill pay is almost immediately paid and no wait or scheduling needed.
Another reader mentioned Chase QuickPay and QuickDeposit:
There are actually a couple of features of Chase's checking account that I would like, namely their remote deposit and direct person-person payments.
In addition to those who like some of Chase Bank's services, there's also the issue of the extra work that's required to switch banks. One reader lamented the reason he hasn't switched:
The thought of untangling all my electronic payments / bill pay is the only thing holding me back
For those staying with Chase, you will have to be more careful to avoid fees. As I mentioned in my last post, Chase's new fee policy has taken effect, and it applies to both new and existing checking accounts. This change was also noted in this Sunday USA Today article.
Easy Alternative to Direct Deposit
Customers used to be able to avoid the monthly service charge by having direct deposit of any amount. Now customers need to have monthly direct deposit of at least $500. One direct deposit must be at least $500. Multiple smaller direct deposits that add up to over $500 don't qualify. The USA Today article described how this affected one person:
Amilivia, a part-time worker at Target, receives several direct deposits to her account each month that together total more than $500. But under Chase's new rules, that didn't matter.
A question that readers have asked is whether the direct deposit really needs to be a direct deposit from an employer. Will an ACH transfer initiated at another bank qualify? A friend has confirmed that he was able to avoid the $12 monthly fee by initiating a $510 ACH transfer from his Discover Bank savings account. He said he added an extra $10 to make it look less suspicious, but I doubt that's necessary. I can't say if this will always work, but Chase does appear to have a history of allowing ACH transfers to meet the direct deposit requirements. One reader commented in the last post that Ally ACH transfers were used to fulfill the direct deposit requirement at Chase.
From: Chase Online
Subject: Re: Account Inquiry
can certainly understand your concern in regards to the
Direct Deposit on your account. I sincerely apologize for
ACH credit from an external account is not considered a
Direct Deposit. Please note that Direct Deposit comes from
your place of employment, or pension, or government.
External account are account that you transfers between
accounts that you are signers on.
be experiencing at this time. Please be assured that we
value you as a customer and wish for your experience with
Chase to be one of satisfaction and ease.
please e-mail us via the Secure Message Center or contact
our Internet Service Center at 1-877-242-7372.
Internet Service Center
Be careful when dealing with CSR, they all have a variation of their understanding of ACH, but not the real inside working of the ACHs.
I used to work in a banking call center, and I overheard all kinds of false info being given out from the reps around me. Many reps -- especially newer ones -- just shoot from the hip when answering questions that they don't actually know the answers to. It's pretty ridiculous.
Direct Deposit (credit) - Direct deposit is a credit application that transfers funds into a consumer's account at the Receiving Depository Financial Institution. The funds being deposited can represent a variety of products, such as payroll, interest, pension, dividends, etc.
Note that the Chase Bank wording is "The direct deposit, which must be an ACH credit, may include a payroll, pension or government benefit payment, such as Social Security."
Chase is the marketing name for the retail financial services activities of JPMorgan Chase & Co. and its subsidiaries and affiliates in the United States. "Chase," "JPMorgan," "JPMorgan Chase," the JPMorgan Chase logo and the Octagon Symbol are trademarks of JPMorgan Chase & Co. Other featured words or symbols, used to identify the source of goods and services, may be the trademarks of their respective owners.
The information on this Website is for information purposes only. It is believed to be reliable, but JPMorgan Chase does not warrant its completeness, timeliness or accuracy. The information on the Website is not intended as an offer or solicitation for the purchase of JPMorgan Chase stock, any other security or any financial instrument.
hardware failure, including among other things failures of computers (including your own computer), servers, networks, telecommunication lines and connections, and other electronic and mechanical equipment;
software failure, including among other things, bugs, errors, viruses, configuration problems, incompatibility of systems, utilities or applications, the operation of firewalls or screening programs, unreadable codes, or irregularities within particular documents or other content;
overload of system capacities;
damage caused by severe weather, earthquakes, wars, insurrection, riots, civil commotion, act of God, accident, fire, water damage, explosion, mechanical breakdown or natural disasters;
interruption (whether partial or total) of power supplies or other utility of service;
strike or other stoppage (whether partial or total) of labor;
governmental or regulatory restrictions, exchange rulings, court or tribunal orders or other human intervention; or
any other cause (whether similar or dissimilar to any of the foregoing) whatsoever beyond the control of JPMorgan Chase.
Links to Other Sites
Links to non-JPMorgan Chase Websites are provided solely as pointers to information on topics that may be useful to the Websites, and JPMorgan Chase has no control over the content on such non-JPMorgan Chase Websites. If you choose to link to a Website not controlled by JPMorgan Chase, JPMorgan Chase makes no warranties, either express or implied, concerning the content of such site, including the accuracy, completeness, reliability or suitability thereof for any particular purpose, nor does Chase warrant that such site or content is free from any claims of copyright, trademark or other infringement of the rights of third parties or that such site or content is devoid of viruses or other contamination. JPMorgan Chase does not guarantee the authenticity of documents on the Internet. Links to non-JPMorgan Chase sites do not imply any endorsement of or responsibility for the opinions, ideas, products, information or services offered at such sites, or any representation regarding the content at such sites.
BECAUSE OF THE POSSIBILITY OF HUMAN AND MECHANICAL ERROR AS WELL AS OTHER FACTORS, THE WEBSITE (INCLUDING ALL INFORMATION AND MATERIALS CONTAINED ON THE WEBSITE) IS PROVIDED "AS IS" "AS AVAILABLE". JPMORGAN CHASE AND THIRD PARTY DATA PROVIDERS ARE NOT PROVIDING ANY WARRANTIES AND REPRESENTATIONS REGARDING THE WEBSITE. JPMORGAN CHASE AND THIRD PARTY DATA PROVIDERS DISCLAIM ALL WARRANTIES AND REPRESENTATIONS OF ANY KIND WITH REGARD TO THE WEBSITE, INCLUDING ANY IMPLIED WARRANTIES OF MERCHANTABILITY, NON-INFRINGEMENT OF THIRD PARTY RIGHTS, FREEDOM FROM VIRUSES OR OTHER HARMFUL CODE, OR FITNESS FOR ANY PARTICULAR PURPOSE. FURTHER, JPMORGAN CHASE WILL NOT BE LIABLE FOR ANY DELAY, DIFFICULTY IN USE, INACCURACY OF INFORMATION, COMPUTER VIRUSES, MALICIOUS CODE OR OTHER DEFECT IN THIS WEBSITE, OR FOR THE INCOMPATIBILITY BETWEEN THIS WEBSITE AND FILES AND THE USER'S BROWSER OR OTHER SITE ACCESSING PROGRAM. NOR WILL JPMORGAN CHASE BE LIABLE FOR ANY OTHER PROBLEMS EXPERIENCED BY THE USER DUE TO CAUSES BEYOND JPMORGAN CHASE'S CONTROL. NO LICENSE TO THE USER IS IMPLIED IN THESE DISCLAIMERS.