5 Easy Ways to Pay Off Credit Card Debt the Fastest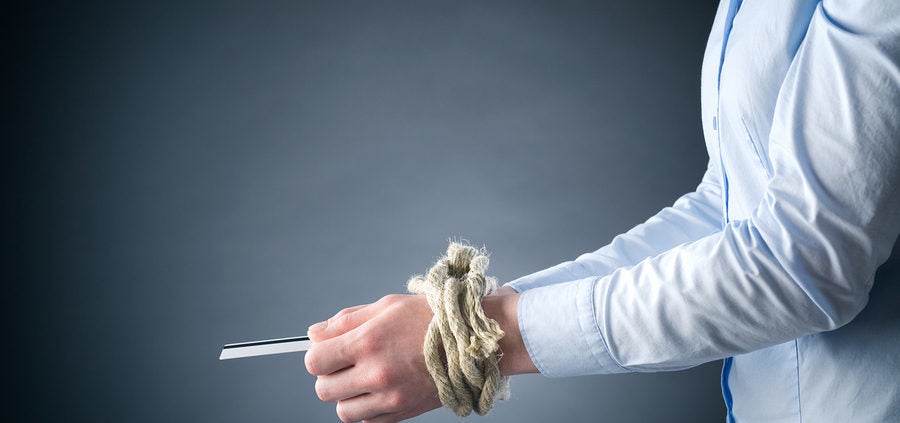 Paying off credit card debt in full is a goal sought by all of those who carry it. For many, it can be a recurring nightmare where high interest rates aggressively pull you under water, only allowing you to resurface for a quick breath by making your minimum monthly payment.
The minimum monthly payment keeps you alive, but only to incur more interest and allow the cycle to continue into eternity. Folks, paying the monthly minimum is the absolute slowest way to pay off credit card debt. It will take you more time and cost more money than any of the other options listed in this article.
0% Interest Balance Transfers
If you have a significant amount of credit card debt with high interest rates, one option is to move to a new credit card with a 0% promo on balance transfers. Of course, this is dependent on being approved for another credit card. While 0% interest sounds great – you'd be paying less during the promotional period, there are caveats to be aware of. If you can pay off the entire balance during the promotional period, great. If not, be cautious of what the interest rate may become after the promotional period ends. Also, keep an eye on any balance transfer fees. They could negate the savings you are obtaining by transferring balances. Being able to pay down the principal without interest charges is the most appealing aspect of balance transfers.
Credit Card Debt Snowball
The credit card debt snowball method is based on starting small and growing large. Imagine a snowball starting at the top of a hill, rolling down, and amassing more snow as it travels. You start with the smallest credit card balances you have and put as much extra money into paying them down as possible. Then, you move on to the next largest and so on. What the snowball method does is sets smaller goals first, so you obtain a sense of satisfaction that you're making progress. After the first balance is paid off, the larger balances look less intimidating as you've already proven to yourself you can conquer your debt.
Credit Card Debt Avalanche
Much like the credit card debt snowball method, the credit card debt avalanche method isolates one debt at a time. The avalanche method begins with the largest balance or most expensive debt considering interest rates and works down to the smallest of balances, or least expensive debt. Remember, you're still paying at least your minimums on other balances, but the most expensive or largest debt receives the lion's share of your additional cash.
Credit Card Debt Settlement
Credit card debt settlement is the practice of negotiating a payoff or settlement amount with your creditors. This can be accomplished by yourself or there are third party companies that work your debt settlement file with all of your creditors for a fee. Debt settlement is typically used by those in hardships such as a loss of employment, divorce or even credit card debt that has become uncontrollable. Two things to be aware of when seeking debt settlement:
There are fees associated with using a third party to work on your behalf to settle your debt.
If part of your debt ($600 or more) is forgiven by a creditor, you will be expected to pay income taxes on the amount forgiven since the IRS considers this taxable income.
Credit Card Debt Consolidation
Credit card debt consolidation is the process of consolidating multiple credit card debts into one monthly payment. Often times, interest rates are negotiated lower based on certain conditions. One common condition with debt consolidation through a third party service is that often times, consumers will need to completely close out individual credit cards to obtain the lower interest rate. This means there is no risk of continuing to run balances up. "Most individuals believe the only true way to consolidate credit card debt is by obtaining a loan to pay those balances off," says Bill Smith, Director of Communications with the non-profit National Association for Debt Education & Assistance. "While that is one form of credit card debt consolidation, it's not the only one. There are a number of organizations that will create a debt management plan where you pay one party to disburse payments to your creditors on time every month. Often times with a reduced interest rate," Smith noted. Two things to be aware of when seeking credit card debt consolidation through a third party:
Be sure the credit card consolidation company is a 501(c) (3), non-profit organization. They will charge nominal fees, but they will work with you on making the fees affordable.
In some instances, you will be required to close certain credit cards while you are on a debt management plan.
Even with all the options mentioned in this article, paying off credit card debt can still be a hurdle for some. Before considering any of the options mentioned above, it is wise to find a counselor that works for a non-profit counseling agency to consult with and weigh all of your options.
5 Ways to Pay Off Credit Card Debt
Please select the category that most closely reflects your concern about the presentation, so that we can review it and determine whether it violates our Terms of Use or isn't appropriate for all viewers.
Paying off Credit Card Debt The Options for Debt Relief
Need to Get Out Of Debt Fast?? NewDebtRulesBlog.com is the single best online resource for consumers who are looking to get out of debt quickly, using only the most effective debt relief strategies available. Our goal is to help as many consumers as possible become DEBT FREE by educating consumers on the various debt relief strategies available to them, and helping them identify the specific strategy that that is best suited for their specific debt challenge. In our Free Report on "beating the debt trap" we will expose you to some of the tactics the banks are using to lure you into debt in the first place, and keep you there for as long as possible so they can continue to collect fees along the way. We also show you how to beat this Debt Trap for good! If you are in debt, whether it is credit card debt, student loans, medical bills, or mortgage debt, than you owe it to yourself to get access to this information now. Our Expert Consumer Advocates are available to help you create a customized solution for your specific situation. NewDebtRulesBlog.com - Wishing You A Debt Free Life. Click here now (www.NewDebtRules.com) for access to a Free Interview called: "Secrets of a Debt Insider" to learn from an executive at a Debt Relief Company how you too can beat the Debt Trap. http://www.NewDebtRules.com
Copyright © 2009 by New Debt Rules Copyright © 2009 by New Debt Rules All rights reserved. You have the right to use, reproduce, or transmit this in any form or by any means, electronic or mechanical, including fax, photocopy, recording, or any information storage and retrieval system by anyone but the purchaser for their own personal use. The contents of this file may not be modified in any form without the express written permission of New Debt Rules.com For more information, please contact: Address: New Debt Rules.com 601 Heritage Drive 410 Jupiter, Fl 33458 Need Help: [email protected] Websites: http://www.NewDebtRulesBlog.com http://www.NewDebtRules.com http://www.NewDebtRules.com
About The Author About The Authors: New Debt Rules was founded by a group of Consumer Advocates with over 15 years of combined experience in the debt relief industry. Over those 15 years the founding partners witnessed both the god side of the debt relief industry, as well as the bad side of the industry. It was the dramatic increase in the number of unethical debt relief organizations over the last few years that motivated the partners to create New Debt Rules and establish it as a primary resource for consumers seeking accurate, straightforward and effective debt relief information and services. It became clear to the partners that it had become increasingly difficult for the average consumer to research and identify honest debt relief companies as well as effective debt relief solutions. Therefore, it became the mission of New Debt Rules to help as many consumers as possible to get out of debt faster than the consumer ever believed possible. New Debt Rules delivers on this mission primarily in two ways: 1) by educating consumers on their options in regard to the various debt relief strategies available to them, and 2) by investigating on the consumer's behalf to identify only the most ethical, effective and consumer friendly debt relief service providers capable of actually assisting consumers with the implementation of a debt relief strategy. http://www.NewDebtRules.com
Growing Concern 984 million credit cards issued (2006) with more than 1 billion Visa cards worldwide US Visa card users spend $1 trillion a year 78% of Americans (91.1 million) have more than one credit card
Options Paying off more than minimum Debt Pay Down Software (Decision ware) Credit Counseling Debt Settlement Bankruptcy
Credit Counseling Credit counselor will manage the payment process. Creditor collection and legal suits stop. Payments may be reduced Education, advising and mentorship available
Definition of Debt Settlement Creditor (credit card company) and debtor (consumer) agree to a reduced total on the credit card bill in exchange for a lump sum payment. Often this is managed by a Debt Settlement Company for a fee.
Bankruptcy Designed to give the consumer a fresh start Changes in laws have made Chapter 7 (clean slate) more difficult to qualify for Chapter 13 is managed by the Court Stays on credit history for up to 10 years
4 strategies to pay off credit card debt fast

If you're wondering how to pay off debt fast, you're not alone. One in three Americans carries a balance on their credit cards month to month. 1 If you're one of them, and you want to reduce your balance, the strategies below can help you figure out how to quickly pay off any credit card debt you have.
Do you carry a balance on more than one card? If so, make sure you always pay at least the minimum on each card. Then focus on paying down the total balance on one card at a time. You can choose which card you target in one of two ways:
Check the interest rate section of your statements to see which credit card charges the highest interest rate, and concentrate on paying that debt off first.
Pay off the card with the smallest balance first, then take the money you were paying for that debt and use it to pay down the next smallest balance.
Look at your credit card statement. If you pay the minimum balance on your credit card, it takes you much longer to pay off your bill. If you pay more than the minimum, you'll pay less in interest overall. Your card company is required to chart this out for you on your statement, so you can see how it applies to your bill.
Simple solution: Pay a bit extra each month. Every dollar over the minimum payment goes toward your balance—and the smaller your balance, the less you have to pay in interest.
Consolidating your debt can let you combine several higher-interest balances into one with a lower rate, so you can pay down your debt faster without increasing payment amounts. Here are two common ways to consolidate debt:
Take advantage of a low balance transfer rate to move debt off high-interest cards. Be aware that balance transfer fees are often 3–5 percent, but the savings from the lower interest rate may often be greater than the transfer fee. Always factor that in when considering this option.
If you have equity in your home, you may be able to use it to pay down card debt. A home equity line of credit may offer a lower rate than what your cards charge. Be aware that closing costs often apply, but an extra benefit is that home equity interest payments are often tax-deductible.
If you do consolidate, keep in mind that it's very important to control your spending to avoid racking up new debt on top of the debt you've just consolidated.
Paying Off 10000 In Credit Card Debt How I Did It The
The Best Ways to Get Rid of That Awful Credit Card Debt - Holiday and Vacation
The Best Ways to Get Rid of That Awful Credit Card Debt is great place for your holiday and this image design is free to use with high definitions resolution. The Best Ways to Get Rid of That Awful Credit Card Debt is part of the popular hotels/resorts/villas. Here you can find some alternative about The Best Ways to Get Rid of That Awful Credit Card Debt for your vacation with family or group. You can book or make reservation here and also the picture above is a nice image for your desktop wallpaper. You can have it by right click and save as into your computer. Don't miss to check all your favorite places by viewing the similar hotels and villas in pictures below.
How to Pay Off Your Credit-Card Debt in a Year
Take these steps to get a grip on what you owe and wipe out your balances quickly.
By Cameron Huddleston, Online Editor
January 21, 2014
A recent survey by Credit.com found that half of the respondents who have credit-card debt said it's extremely important to have a plan in place this year to pay off what they owe. However, consumers often say they want to repay debt but don't take the time to figure out how to make that happen, says Gerri Detweiler, Credit.com's director of consumer education.
SEE ALSO: The Truth About Credit and Debt Quiz
Usually after people commit to eliminating their credit-card balance, they simply start paying a little more than the minimum due each month, Detweiler says. But for those serious about paying off their debt quickly, that approach won't work. If you want to wipe out your credit-card debt in a year, you have to create a specific plan and stick to it. Here's how:
Calculate your monthly payment. To pay off your debt in a year, you first need to figure out what your monthly payment should be to reach that goal. Credit.com has a Credit Card Payoff Calculator that lets you enter your balance, interest rate and monthly payment and will show you how long it will take to pay off your debt at that rate. It also provides a table that shows you how much you should increase your payment to pay off your balance faster. For example, if you have a $5,000 balance on a card with an 11% interest rate (the average for low-rate cards), you would need to pay $450 a month to wipe out your debt in a year. If you just make the minimum payment (2% of the balance), it would take you more than 23 years to get rid of $5,000 in credit-card debt.
Find room in your budget to make that payment. Chances are there are plenty of leaks in your budget you can plug to increase your monthly cash flow – and monthly credit-card payments. Here are 28 unnecessary expenses you might be able to eliminate. Plus, there are ways you can increase your monthly earnings to boost your credit-card payment. For starters, you might be able to take home more every month by simply adjusting your tax withholding. If you typically receive a tax refund, you're letting Uncle Sam hang on to too much of your money during the year. You can keep that money for yourself and boost your paychecks by filing a new W-4 with your employer to adjust your tax withholding. To find out how many exemptions you should be claiming, try our Easy-To-Use Tax Withholding Calculator. And see our slide show for more ways to get extra cash.
Get your interest rate as low as possible. The lower your interest rate, the larger the portion of your monthly payment that goes toward paying off your actual debt rather than interest, Detweiler says. Look for credit cards with 0% balance-transfer offers to dramatically reduce your finance costs. But watch out for transfer fees, which can be 2% to 4% of the transferred amount. You can compare offers at CardHub.com, Credit.com or CreditCards.com or call your card issuer to negotiate a lower rate.
Can't pay off all your debt in a year? If you've run the numbers and looked for ways to cut back (or earn more) but still can't come up with the monthly payment needed to pay off your debt in a year, Detweiler suggests adjusting your goal. If you have several credit cards, choose one to pay off first – preferably the one with the highest rate to minimize the amount of interest you pay. See Why Your Credit Card Debt Won't Die for more on why this approach works. You can consolidate accounts with smaller balances by taking advantage of a balance-transfer offer.
The key is to automate your payments. Log on to your account online and set up recurring payments in the amount needed to pay off your balance as fast – yet affordable -- as possible. Your credit-card statement will list the monthly payment needed to pay down your debt in three years. So you can use that amount if a one-year time frame is unrealistic. Then put your cards away so you can't use them and rack up more debt.