SDCCU® On The Go Branch™ Mobile Banking
#: 21193
Price: free ( $ 0.00 ) In Apple Store
Category: Finance
Updated: 2010-12-02
Current Version: 4.1.8
4.1.8 (iOS 4.0 Tested)
Size: 7.10 MB
Language: English
Seller: Firethorn Mobile LLC
Requirements: Compatible with iPhone, iPod touch, and iPad. Requires iOS 3.0 or later
© 2010 Firethorn Holdings, LLC. All rights reserved.
Add to Favorite apps
San Diego County Credit Union's On The Go Branch™ Mobile Banking is a secure way to quickly and easily access your SDCCU® accounts anytime, anywhere using your iPhone.
• View transaction history
• Transfer funds between your SDCCU accounts
Download this app, and you are ready to securely manage your finances on the go.
SDCCU On The Go Branch Mobile Banking is now iOS 4.2 compatible. Please update to fix any app instability issues.
No video review.
Great app and thanks for the update to make it work with iOS 4.2.1. But now that it is multitasking capable it needs a logout button otherwise it says logged in in the background when you put it in the background.
Needs Logout Button
Needs back button on "Show/Hide Accounts" screen
It's nice to have on the go access to your accounts but it's not very secure with no logout button.
Users Who uses this app receive you question
Be the first question this app.
Related to «SDCCU® On The Go Branch™ Mobile Banking» applications
The Bank of MO on the GO is a mobile banking service that allows bank customers to use their iPhone to initiate routine transactions and perform account research anytime, from anywhere. Customers can view account balances and transaction history, view account alerts, initiate account transfers and… more
This free app keeps you in touch with the latest news, events, features and more from the Asian Development Bank on the go. more
X1 Mobile Search for iPhone - Securely search your Windows PC while on the go.
X1 Mobile Search for iPhone enables instant and secure search of desktop-bound email, attachments, and documents. It unshackles you from your PC, while retaining access to the content stored there, making it easier than ever to leave the laptop behind.Note: Currently requires port 9999 to be open… more
Clozette Mobile - Your Personal Closet On The Go
Clozette.co is a social networking & e-commerce portal that serves a universe of fashion conscious ladies who love all things beautiful & unique.Heading out? Clozette Mobile is your perfect companion that allows you to stay fashionably connected even when you're out and about.Clozette… more
Learn project management, business analysis and contract management wherever you are with ESI Mobile: Learn On the Go, ESI Internationals new app for the iPad. Whether you are looking to reinforce your ESI training, apply your new knowledge on the job or study for an industry certification, ESI… more
Our Mobile App is designed to give you fast, secure account access so you can easily manage your account details, view your bill and your account balance, make payments and find payment locations, schedule alerts and reminders, receive push notifications, view and report outages and stay connected… more
Now connect with the Toledo-Lucas County Public Library with TLCPL on the go mobile app. This state-of-the-art app allows you, our most loyal patrons, to search the catalog, find directions to Library locations, renew items, get reference librarian service, view reading lists, view blogs, look up… more
Tap the Bouncing Ball Spikes Bits - The Impossible Jump Fever On The Go
Tap to avoid the scary obstacles. It's not as easy as you think more
Online banking apple pay enrollment
Online banking apple pay enrollment Results Search
Home personal online-and-mobile-banking Apple Pay . Apple will send a notification to your . Personal and business debit cards can enroll in Apple Pay.
. log into Internet Branch online banking now. . How to Enroll in Apple Pay. Enroll your SDCCU card with Apple Pay in a few easy . Apple, the Apple logo, .
How do I enroll in Apple Pay™? . information before enrolling in Apple Pay. To enroll your Alliant credit or . by logging into your online banking .
To avoid Apple Pay enrollment . checking accounts are eligible for Apple Pay. Business banking debit cards are . Apple Pay, Touch ID and Apple Watch are .
Apple users: To view bill pay make sure cookies are set to Always Allow. . Online Banking Application . . Enroll in Online Banking.
Apple users: To view bill pay make sure cookies are set to Always Allow. Settings Safari Block Cookies Select Always Allow
Apple Pay helps allow you to make purchases using your PNC Bank Visa credit cards and PNC Bank Visa debit cards on any eligible Apple . ENROLL IN ONLINE BANKING:
Apple Pay™ for your MidFirst Bank Debit Card is . Apple Pay is Here! Apple Pay™ for your MidFirst Bank consumer . Our online account enrollment application is .
Checkout with a wave of your mobile device using Apple Pay, Samsung Pay, or Android Pay. By linking your Columbia Bank credit or debit card to one of these digital .
Apple Bank in New York is dedicated to helping you find the right accounts and loans that get you ahead in life. Explore our personal banking . Enroll. Personal;
Apple Accepts WeChat Pay In App Store As Apple Pay Fails To Make Inroads In China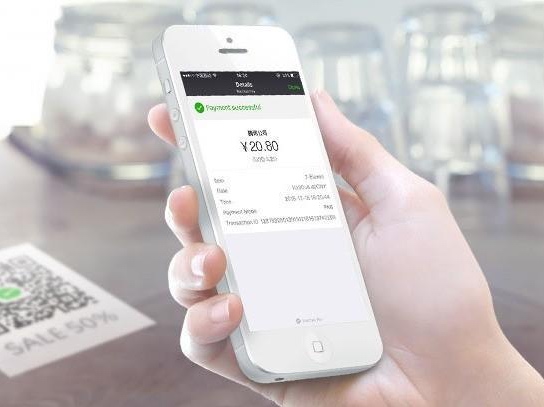 Apple Inc. has accepted Wechat Pay for payments made in its App Store and music platform, after it accepted Alibaba's Alipay as a mobile payment option for purchases conducted within its ecosystem. The action will likely drive up Apple's revenue in China from in-store and music spending, as the U.S. tech giant continues to adjust its strategies for a fast-moving Chinese market.
"We are glad to offer users in mainland China the option of WeChat Pay for their favorite mobile app or Apple Music products. We continue to be dedicated to provide multiple simple and convenient payment methods for customers within the Apple ecosystem," Apple said in an official statement today.
Behind the official announcement lays the embarrassing fact that Apple Pay, which the U.S. tech giant launched in mainland China in early 2016, has failed to make any progress in one of its most critical markets.
At the end of the first quarter this year, Alipay had a 53.7% market share in China's third-party mobile payment market, while WeChat Pay held a 39.51% stake during the first quarter this year, according to data from Analysys. Apple Pay, nearly 20 months after entering the Chinese markets, did not take any meaningful market share from rivals. It still only has around 1% of the Chinese third-party mobile payment market.
Apple's acceptance of WeChat Pay in its App Stores and Apple Music platforms is a pragmatic one, indicating that Apple perhaps has given up hope for its Apple Pay to make any significant progress in the future. On the other hand, Alipay, which was accepted as a mobile payment option for Apple's Music and iCloud services last November, was credited as having secured more paid users for Apple. Earlier this month, Apple said paid users for its Apple Music and iCloud in China has increased 12% to 185 million over the past 90 days. That user increase also led to significant revenue growth for Apple.
WeChat's win at forcing Apple to accept it in the Apple ecosystem represents Tencent's growing influence. The tug of war between Apple, with a US$815 billion market capitalization, and WeChat, China's social media leader with 963 million users and a market cap of US$378 billion, has been intensifying this year.
At the beginning of 2017, Apple reportedly was able to reject WeChat's attempt to launch a mini app function within its social networking app, concerned that the Wechat mini app will eventually erode the Apple ecosystem. WeChat had to use a different name, mini program, in the end.
In April, WeChat shut down a popular function in its mobile app to allow readers to offer cash gifts to articles and authors they like and support. The change was made because Apple insisted that this cash gift constitutes an in-store purchase, and therefore Apple must take a portion of the revenues. Until today, the dispute is still unsettled, and the iOS version of WeChat still does not support the function.
Here's how peer-to-peer Apple Pay payments will work
A peek at Apple's iOS 11 payment system in action answers some questions.
Apple Pay can be used to pay online or at stores, but it'll soon get peer-to-peer payments, too. That means payments to friends or anyone else you have on your contacts list. The feature was announced in June at Apple's developer conference, where it was marketed as one of the big upgrades in iOS 11. That update to iPhones and iPads is likely to hit some time in September, if Apple follows its traditional release schedule.
While plenty of other mobile payment apps exist to transfer money to friends -- such as PayPal and Venmo -- Apple Pay's tight integration with the rest of the company's software ecosystem could make it the most seamless solution for Apple users. It doesn't require additional accounts to be set up. But Android users can't send or receive payments: Both sides of the transaction need to be on iMessage.
We've seen a brief demo of the service in action. Here's everything we know about peer-to-peer payments so far.
Much like Apple Pay was when it first launched, peer-to-peer payments will be a US feature at first.
You can pay someone via iMessage or Siri, on iPhone, iPad, or Apple Watch.
You do need to make sure the other person has an active iMessage account, though.
When a payment is received, it's immediately converted to an Apple Pay Cash Card.
The virtual card lives in Wallet on iOS 11, and can be used like a gift card to make payments. The advantage is that it's essentially a virtual instant bank account for cash, and payments are received instantaneously. This is how other payment systems like Venmo and PayPal work, too.
You get money in the Cash Card even if you're not enrolled in Apple Pay.
Surprise! If you get a payment you don't need to do anything to set it up. Once money is transferred, an Apple Pay Cash Card gets automatically generated on your phone.
The money can be used at any Apple Pay-enabled location. Or, it can be used in-app.
It works without signing into another service.
As long as the other person's using iMessage, a payment can be made.
From there, money can be transferred to a bank. but it always goes to the Cash Card first.
Apple won't let you put money directly in your bank account. It always goes to that Cash Card first, similar to how Square, PayPal, Venmo and other payment services work.
In case the phone gets lost or stolen, Apple says the card will keep its money in an encrypted account off the phone itself. The money can be used across devices, meaning you should be able to get the cash on an iPhone and use it on your iPad, too. or even an Apple Watch.
iOS 11's best features for iPhone and iPad
Tech Enabled: CNET chronicles tech's role in providing new kinds of accessibility.
All the latest Apple news, featuring developments on the iPhone, iPad, Macbooks, OS X and much more.