My experience with the Ritz-Carlton Chase credit card
The card arrived in a heavy package and, while in the same style as the Chase Sapphire card, is much heavier and the design is much more elegant. I think it is the best designed (regular) consumer card out there right now.
I signed up for the card while it was 140,000 Ritz-Carlton Rewards bonus points after completing the minimum spend.
I spend about $10,000 every month on all my credit cards, so going through $3,000 wasn't an issue. You can use our guide to Manufactured Spending for more ideas on how to get through the minimum spend.
The card comes with a heavy $395 annual fee which is not waived (for the 140,000 bonus offer).
The Ritz-Carlton Rewards Visa has a complimentary Lounge Club membership, with unlimited visits for the cardmember plus one guest. The Lounge Club membership is almost equal to Priority Pass now and is a great benefit to have.
Note that Chase and Lounge Club have severed ties and the last day to sign up for the Lounge Club membership is April 22nd.
What To Use The Points For?
You can book Marriott or Ritz-Carlton properties with the points. I went ahead and booked the Ritz-Carlton Almaty (30,000 points) last week.
The Ritz-Carlton credit card has $300 travel credit per CALENDAR year.
Here is what the Terms and Conditions say:
"Make the most of your trip with a $300 annual travel credit to use for baggage fees, Global Entry fees, seat upgrades, access to your preferred airport lounge and more. Simply use your card for these expenses and call us at 1-855-896-2222, and we will refund the charges after your flight."
I've had no issues so far to get random airline charges (e.g. award fees) refunded, as long as it was not a revenue ticket.
I felt that the front desk agents looked a little more into a possible room upgrade when I've handed over the card at a Marriott or Courtyard by Marriott.
For each two-night paid stay, you can also get $100 hotel credit. Since Ritz-Carlton are now eligible for a Marriott BRG claim, this could be something I'll be doing very soon.
This is a great card that makes for an awesome introduction to the Ritz-Carlton brand.
If you like this post – subscribe via email or follow us on Twitter.
- Find great hotel deals for your journey at Starwood and Marriott and Hyatt. - Subscribe to our Twitter feed for 24/7 & 365 days a year global airfare deals
- Subscribe to our Premium Service to have the world's airfares at your fingertips and get real time alerts for amazing Economy and Business Class Deals
The Ritz-Carlton Rewards Credit Card Gets an Upgrade - Products News
Credit-Land.com is an independent, advertising-supported web site. Credit-Land.com receives compensation from many credit card issuers whose offers appear on our site. Compensation from our advertising partners impacts how and where their products appear on our site, including, for example, the order in which they may appear within review lists. Credit-Land.com has not reviewed all available credit card offers in the marketplace.
The Ritz-Carlton Rewards Credit Card Gets an Upgrade
People who have the Ritz-Carlton Rewards credit card issued by Chase can look forward to some lucrative new enhancements, including an upgrade to the Visa Infinite platform. With this announcement, cardholders get access to a wide range of perks, including discounts on airline tickets, money back for the Global Entry application fee, exclusive car rental privilege and access to 900 plus Priority Pass lounges.
This upgrade to the Visa Infinite platform is seen as being a way to give cardholders more when traveling. "Visa has a long and successful history of partnering with world-leading brands to bring unique benefits to consumers," said Bill Sheley, head of products in North America, Visa Inc. "With the upgrade of The Ritz-Carlton Rewards Credit Card to the Visa Infinite platform, global travelers now have even more access to exclusive experiences and benefits."
This is on top of the benefits they already get with this credit card, including five points for every dollar spent staying at The Ritz-Carlton and their partners and double points spent on airline tickets, restaurants and car rentals. As a sign up bonus people also get three complimentary nights once they reach $5,000 in spend within the first 90 days of having the card.
Interested in discounts when flying? The suite of elite benefits now includes an unlimited number of $100 discounts when buying two or more airline tickets for domestic travel, along with the access to Priority Pass lounges to rest up before, after or in between flights.
They also get a $300 annual travel credit to offset travel costs, along with the Global Entry application credit. When traveling they do not have to pay foreign transaction fees.
More Exclusive Experiences
Individuals with this card also get access to a wide range of special events, including events to entertainment, sporting and culinary experiences.
They also get three upgrades every year on stays up to a week, when they pay for the stays instead of cashing in rewards.
During the first year they also get an automatic Gold Elite status in the Ritz-Carlton Rewards program and to keep it they must have an annual spend of $10,000. When they reach an annual spend of $75,000 they get Platinum Elite status.
On every paid stay lasting two nights or more they get a $100 hotel credit.
Why You Shouldn't Apply for the Ritz-Carlton Visa Infinite Card
The Devil's Advocate has now written two articles on the revised benefits of the Ritz-Carlton Visa Infinite card from Chase, originally sounding unimpressed and then revising his attitude slightly positive after new information came to light. As usual he writes his articles without consulting me. I'm as curious as anyone else to see what he thinks come Thursday morning. But I thought in this case it was worth adding a stronger caution against applying for the new Ritz-Carlton Visa Infinite card.
Reports are that Chase is also launching a new Sapphire Reserve card, with applications available starting August 21. Anyone who applies for the Ritz-Carlton card before then will probably find it more difficult to apply for the Sapphire Reserve card later. And so I think the debate is not between old and new versions of the Ritz-Carlton card but rather between the Ritz-Carlton card and the new Sapphire Reserve card. And it's not as easy as comparing the two sign-up bonuses.
Even if you disagree with my analysis, it makes sense to wait until the new card becomes available so you can make your own, informed decision. You can be patient for a week.
The Ritz-Carlton Visa Infinite card brings to mind the "pump and dump" strategy for applying for credit cards: get the bonus and cancel as soon as you can. That's great if all you want is the sign-up bonus. Three free nights! But that strategy was developed when there were plenty of cards to apply for, and plenty of opportunities to apply for them again and again. Times have changed.
New rules from Chase make it almost impossible to get approved for a new card if you've had five applications of any sort — even at other banks — in the past 24 months. It's important to evaluate your strategy for long-term value because applying for Card A today may prevent you from applying for Card B tomorrow. You could be stuck waiting up to two years before you get your chance to try again. Personally, if I apply for a card from Chase it's going to be one that I intend to keep. That's why I care more about the rewards a card offers in the second year, after the initial bonus has passed.
In your second year of holding the Ritz-Carlton Visa Infinite card, you'll pay a $450 annual fee and get these unique benefits (I'm only highlighting what's different from the rumored Chase Sapphire Reserve):
5X points at Marriott and The Ritz-Carlton
2X points on dining out and other travel expenses
1X points everywhere else
Earn Gold status after spending $10,000 in a calendar year
Receive 3 Club-level upgrades every year on paid stays up to 7 nights each
Receive $100 hotel credit on each paid stay of 2 nights or more
Compare that to the unique benefits of the rumored Chase Sapphire Reserve, also a Visa Infinite card with an annual fee of $450:
3X points on dining out and all travel expenses
1X points everywhere else
Admittedly that looks like a short list. It doesn't mean the Chase Sapphire Reserve has no other benefits. Both cards will offer a waiver for Global Entry, Visa Infinite benefits like discounted companion airfare, a Priority Pass Select membership, and a $300 airline fee credit (it's been suggested that the Sapphire Reserve card's credit will be easier to use). So both cards have lots of perks, but really, after the first year's bonuses are out of the way, the difference between these cards boils down to how many points you earn and what you can do with them, plus a few dedicated hotel benefits.
I suspect most people will earn far more points with the Chase Sapphire Reserve and redeem them for more valuable awards. You'll get 50% more than with the Ritz-Carlton card when you dine out or travel, and you can do more with them, transferring them to a variety of other loyalty programs or using them like cash with a value of 1.5 cents each to book whatever flight or hotel you want through Chase's reservations portal. The only time you'll earn fewer points with the Sapphire Reserve is when you stay at Marriott or The Ritz-Carlton.
That's why there's only one group of people for whom the Ritz-Carlton card makes sense, and that's people who actually stay at Ritz-Carlton on a regular basis. Not just the first year when you're using your free nights, but consistently and for years to come. And I think this group is relatively small compared to the buzz this card has created. Everyone wants three free nights, but how many of you stayed at a Ritz-Carlton property before now? You can't even use the upgrades or hotel credits unless you pay for your room; award nights aren't eligible.
So unless you're a die-hard Ritz-Carlton fan, I don't see the appeal of this card. You may earn more points for stays at Marriott and The Ritz-Carlton, but these points are generally considered less valuable than some of the other transfer options provided by Ultimate Rewards like United Airlines. And all frequent travelers will come out poorer by earning fewer points in important categories like travel and dining out.
Chase Ritz Carlton Credit Card Brings Rewards For You
The Ritz-Carlton Rewards Credit Card gives a guarantee of quality service in every prospect. Book your stay with this rewards credit card and experience special treats and benefits to boost your experience. Grab special rewards plus 10% points on qualified card purchases. Follow the instructions below to apply online.
Go to the link at creditcards.chase.com/credit-cards/ritz-carlton-card.aspx?CELL=63WS&slatesplit=29amp;to access card application form.
Once on the page, click on "Apply Now" green button.
Provide accurate information in required fields to proceed.
Type in your personal information including your first name, middle initial, surname and suffix. You can skip middle name and suffix as these are not required.
Next, Provide your mailing address line 1, mailing address line 2 as per federal regulations. Enter your apt or unit # in respective and home zip code, name of your city and state in designated fields.
Provide your card number in respective field.
Hit on "Next" button to continue.
Provide financial information, contact details and security information for the security of your online data.
Check additional features of this card to complete application.
Enjoy many distinguished benefits of your reward credit card and earn points on all eligible purchases. As a card member, you will get free membership in lounge club, allowing you to indefinite access to hundreds of airports internationally with exceptional hotel privileges.
The Ritz-Carlton Rewards Credit Card Now Offers Two Free Stays!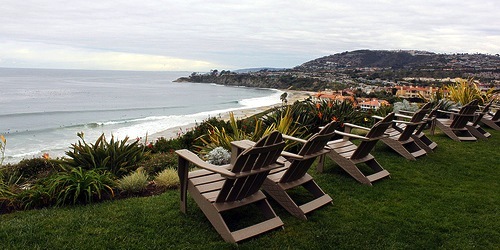 If you're looking for free nights at a luxury hotel, you might want to consider the latest offer attached to the Ritz-Carlton Rewards Credit Card from Chase.
The complimentary nights have been doubled from one night to two, making it twice as nice for the guy or gal looking to stay somewhere in comfort free of charge.
The new offer requires $3,000 in spending during the first three months from account opening to get the two complimentary nights at any participating Tier 1-4 Ritz-Carlton hotel worldwide.
It's pretty much all Ritz-Carlton locations aside from the Ritz-Carlton Reserve locations, which total six.
Obviously the value can vary quite a bit, but some Tier 4 Ritz hotels will run around $700 (or more) per night during peak periods, so you could get about $1700-$1800 in value out of the two free nights when you factor in all taxes and fees.
For example, the Ritz-Carlton, Half Moon Bay costs $765 per night during summer months on a weekend.
So if you're looking to indulge for free, this could be the credit card for you. Other than the opening bonus, I doubt it's something you'd want to hold for more than a year.
The downside to this offer is that there's an annual fee of $395, which is not waived during the first year.
So your two free nights will actually cost you around $400, plus any resort fees that may or may not be included in those two free nights.
Once you spend the $3,000, the Two Free Night Stay E-Certificates will be automatically deposited into your Ritz-Carlton Rewards account. They expire 12 months after issue.
Tip: Watch out for the offer that requires $4,000 in spending. Find the $3,000 link before you apply by searching around!
How to Offset the Annual Fee on the Ritz Credit Card
Fortunately, there are several options to make that annual fee less painful.
This card provides a $100 hotel credit when you book a stay of two nights or longer at a Ritz-Carlton.
It can be used for dining, the spa, or other stuff at the hotel, though I believe alcohol is excluded, so think lunch by the pool or a discount on your expensive dinner at one of the hotel's restaurants.
There's also a $300 annual travel credit, which can be used for a variety of things like baggage fees, seat upgrades, airport lounge fees, in-flight meals and WiFi, and Global Entry fees.
It's obviously a bummer that you can't just use the credit to offset straight up airfare or gift cards for airfare.
And many people probably already have lounge access and/or Global Entry credit via Citi Prestige or Amex Platinum, making this credit not as useful as it looks.
By the way, you get lounge access via the Lounge Club with this card anyway, so it's a bit redundant unless you use an outside lounge.
Still, if you travel a lot you could probably get some use out of the $300, though it's not a clear cut way to offset to your annual fee if you just want the free hotel nights with no strings.
What Else Do You Get with the Ritz Credit Card?
The Ritz-Carlton credit card also gives you automatic Gold Elite status during the first account year, which provides things like free room upgrades, late checkout, and exclusive point bonuses.
If you manage to spend $10,000 on purchases during your first account year, you can maintain your Gold Elite status. The same goes for years after that.
Assuming you spend money like it's going out of style, aka $75,000+ each account year, you'll achieve Platinum Elite status. This results in arrival gifts (think champagne and chocolates) and room guarantees, among other things.
Regardless of what you spend, you also get three upgrades to the Ritz-Carlton Club Level each year, which is basically a lounge within the hotel that makes your stay at the Ritz even more exclusive.
However, both this benefit and the hotel credit are for paid stays, so I don't know if you can take advantage of these perks while using the free night certificates.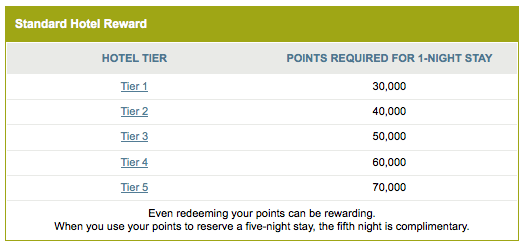 – 5 points per $1 spent at Ritz-Carlton hotels and partner hotels (Marriott and others)
– 2 points per $1 spent on airline tickets direct with airlines
– 2 points per $1 spent on car rentals
– 2 points per $1 spent at restaurants
– 1 points per $1 on other purchases
You also earn a 10% "Annual Points Premium" on points earned throughout the year. It's like the 7% Annual Points Dividend that used to be offered on Chase Sapphire Preferred.
So you'll earn more than one point per dollar spent, and even more if you spend a lot in the bonus categories.
The chart above details how many points you need to redeem hotel rewards. You get the fifth night free if you happen to book five nights. In other words, you can snag five nights in a Tier 1 hotel for 120,000 points.
There's also an option to book a room using a combination of points and cash, and a PointSavers program that requires 10,000 less points in each tier.
Is the Ritz Credit Card a Pass or Is It a Go?
In summary, with that hefty $395 annual fee in place, it'd be hard to justify keeping the Ritz-Carlton credit card in your wallet year after year unless you truly love staying at the Ritz and do so often.
And even applying for it to get the two free nights might be a stretch for some unless you have specific travel plans and really want to stay at a Ritz property. It could make sense for an anniversary or another special occasion.
You could treat the free nights less the annual fee as a subsidy I suppose. Of course, you're still paying $400 for two nights, which many folks may not be comfortable with.
A better alternative could be the Chase Hyatt credit card, which offers two free nights after spending just $1,000, and waives the annual fee the first year. And there are plenty of nice Park Hyatt hotels worldwide.
$400 might not be a bad deal for two nights at the Ritz-Carlton of your choice, just try to take advantage of all the freebies to offset that cost.
Colin created this blog after spending several years in a job that required him to scour credit reports on a daily basis. His goal is to help individuals better understand their credit and get the most out of credit cards. View all posts by Colin Robertson