Credit Card Review: Capital One Venture Rewards (COF)
Using a travel rewards card for regular household spending is a terrific way to help reduce the cost of an annual family vacation or earn a quiet weekend away to recharge. While branded airline miles cards and hotel rewards cards are good options, they do not offer much flexibility in how rewards are used. The Venture Rewards card, on the other hand, is designed for flexibility. Cardholders are free to use rewards to offset airfare, hotel costs, car rentals and many other travel-related expenses. Issued by Capital One Financial Corp (COF), the Venture Rewards card is a worthy option in a very competitive market for travel credit cards.
As of July 2015, the Capital One Venture Rewards card delivers two rewards miles for every dollar spent on the card. Accumulated rewards can be used to offset travel expenses at a rate of 100 miles per dollar. At this rate, Venture Rewards cardholders enjoy a return of 2% on every dollar spent. New cardholders who spend at least $3,000 on the Venture Rewards card in the first three months of ownership get a special bonus of 40,000 miles, equivalent to $400 of travel expenses. New cardholders also receive a one-year waiver on the $59 annual fee.
The Venture Rewards card does not charge any foreign transaction fees. In comparison, many credit cards charge a fee of up to 3% on transactions executed outside the United States. The card also comes with a variety of consumer protection benefits, including coverage for fraudulent use of a lost or stolen card, free access to the Capital One Credit Tracker tool and automatic extended warranty coverage for items purchased in full with the card.
Venture Rewards cardholders pay a variable annual percentage rate (APR) between 12.9 and 22.9% on purchases and balance transfers, depending on creditworthiness. There is no transaction fee for balance transfers. The APR on cash advances is 24.9%, while the associated transaction fee is equal to the greater of $10 or 3% of the transaction amount.
There are a couple ways to redeem Venture Rewards miles. First, the Capital One Purchase Eraser tool allows cardholders to offset the cost of a specific travel purchase with a credit on the billing statement paid for with rewards miles. For example, a $75 purchase for a hotel room can be offset with 7,500 rewards miles. To offset a specific transaction, the Purchase Eraser must be used within 90 days of the transaction date. Cardholders can access the Purchase Eraser tool online or by calling the Capital One Rewards Center. Cardholders can also redeem rewards miles by booking travel directly through the Capital One Rewards Center.
The Capital One Venture Rewards card competes most directly with travel credit cards such as the Discover Miles card, the BankAmericard Travel Rewards card and the Chase Sapphire Preferred card. Like the Venture Rewards card, all these cards provide the flexibility to use accumulated rewards to offset all types of travel expenses, not just a narrow category or brand of travel services.
The Venture Rewards card is a standout in this card category primarily for combining a high-value rewards program with a moderate annual fee. Some competing cards charge no annual fee, while delivering a lower rewards rate than the Venture Rewards card. Other competing cards charge a higher annual fee than the Venture Rewards card without delivering a higher-value rewards program.
The Capital One Venture Rewards card is a terrific option for families and other big spenders who want more flexibility than airline miles or hotel rewards cards can provide. Although this card has an annual fee after the first year, the unlimited 2% reward rate is an exceptional value. By spending regularly with the card and paying off the balance each month, cardholders can realize rewards much greater than the annual fee.
Capital One® Venture® Rewards Credit Card
Miles won't expire for the life of the account and there's no limit to how many you can earn
No foreign transaction fees
$0 intro annual fee for the first year; $59 after that
Get a metal Venture Card when you apply today
Offers.com receives compensation from the credit cards listed on our site. This compensation may impact how and where products appear on this site (including, for example, the order in which they appear). Our offers do not represent all credit card companies and deals available. When considering a card, see the issuer's online application for official details about terms and conditions. Reasonable efforts are made to maintain accurate information; however, all credit card information is presented without warranty. APRs may vary depending on your credit background and current interest rates.
Credit scores are for guideline purposes and do not guarantee approval. Your personal financial situation and lender terms and conditions can impact credit approval.
Any opinions, analyses, reviews or recommendations expressed in this article are those of the author's alone, and have not been reviewed, approved or otherwise endorsed by any card issuer.
Capital One® Venture® Rewards Credit Card
Credit Card Type
$0 intro for first year; $59 after that
2 Miles per dollar on every purchase, every day. 40000 Miles once you spend $3,000 on purchases within 3 months from account opening.
Capital One® Venture® Rewards Credit Card
Credit-Land.com is an independent, advertising-supported web site. Credit-Land.com receives compensation from many credit card issuers whose offers appear on our site. Compensation from our advertising partners impacts how and where their products appear on our site, including, for example, the order in which they may appear within review lists. Credit-Land.com has not reviewed all available credit card offers in the marketplace.
Capital One® Venture® Rewards Credit Card
* The Credit-Land.com webpage is a free service and an information resource for credit cards and financial products and services available to eligible United States consumers. Credit-Land.com does not offer any warranties and is not a direct service. There are no guarantees for approval or offers when applying for a credit card. Please refer to the application if you would like more information on each credit card. When you click "Apply" for a particular credit card, please take the time to review the terms and conditions of the product/service at the issuer's website. All logos on the Credit-Land.com website are property of their respective owners.
User Generated Content Disclaimer: These responses are not provided or commissioned by the bank advertiser. Responses have not been reviewed, approved or otherwise endorsed by the bank advertiser. It is not the bank advertiser's responsibility to ensure all posts and/or questions are answered.
Capital One Venture Credit Card Online Login
Under the Capital One Financial Corporation, the Capital One Venture Credit Card offers rewards in the form of bonuses for the miles you have spend on your travels. You can redeem these rewards to receive cash and thus discounts for your next travel plans. With this credit card, you can enjoy zero annual fees for your first year as a customer.
Customers who hold the Capital One Venture Credit Card can enroll for the online service and manage their credit card information online. Also, you can log in and purchase items online with the help of this card and earn points while at it. It offers an easy to access and use a platform on which you can manage all the activities on your card with ease.
When you find yourself in this situation, know that you are about to enjoy the online access to your account. There are numerous benefits that come with ease which includes access to your card details at all times and the ability to pay your bills or expenses online. To sign in, use the process below:
Step 2: Hover your mouse on the Access your account phrase and then click the Sign In button.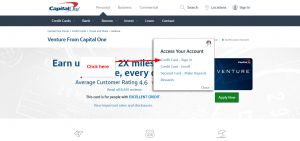 Step 3: Insert your username and password and then tap Sign In button.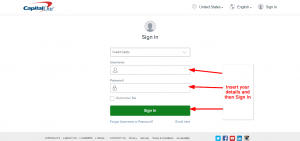 How to get your lost password or username
The need to retrieve your password and username comes with the need to login successfully. If you have forgotten either of the two, then you will have to reset the password or get your username. The process aims to make sure that you do it safely and with speed. To do this, use the procedure below:
Step 1: Click the forgot username or password.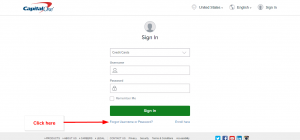 Step 2: Enter your details as required and then click the Find Me button.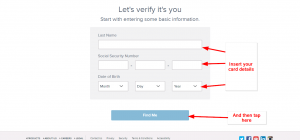 To register for online access you will have to go through different procedures and prove that you are the cardholder. It is a standard process that aims to verify the owner of the card before you can be allowed to create an account online. To enroll, use the steps below:
Step 1: Click as shown below.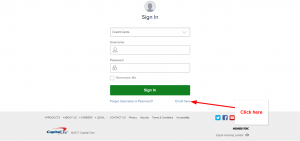 Step 2: Enter your details as required for the purpose of verification and then click the Find Me button.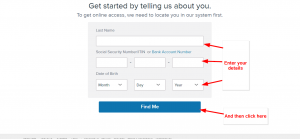 Proceed to other steps to set up your online access.
How to manage your account online
When it is all said and done, you have to take the next step. The goal is to have access to your credit card details at all times. With your online access, you will have this in check. The information will help you to know when and when you made a particular transaction using your credit card. Our can check your points or rewards and redeem them when the need arises. Also, you can pay bills by just accessing your account and completing the action.