How to Redeem Capital One Venture Rewards Points for Travel
The Capital One Venture Rewards program only has one serious drawback that I've discovered so far – their customer service is horrible. I've had to call a couple of times about some issues, and I've had a very, very hard time understanding the phone representatives.
Otherwise, I've actually been quite impressed with the card, and I may actually end up keeping it when it is time to pay the annual fee.
Today I want to share how simple it is to redeem your rewards for travel that you've booked on your card.
This is one of my favorite ways to use rewards because I can scour the web for the best discount travel prices and then have Cap1 cover the expenses.
As an example, if I'm traveling between a couple of low cost cities, then I'd rather use my Venture Rewards instead of miles. Consider a fare between Denver and Los Angeles. You can snag a ticket at Southwest for $200 round-trip including taxes. You can even implement your own lowest fare guarantee with Southwest. That $200 reward would come after $10,000 of spending. However, if I were to use airline miles, it would require 25,000 miles for the same flight. That would be $25,000 worth of spending. This makes the Venture Rewards program (in this situation) 2.5 times more valuable.
Redeeming Capital One Venture Rewards Points is Simple
Interestingly, Wallet Blog includes the redemption process as the Achilles Heal of the Capital One Venture Rewards program. However, my experience was very positive.
Once you've signed into your account, just find the Rewards link on the top navigation menu.
Step #2: Click on 'Redeem for Previously Purchased Travel' (in my opinion, the most economical use of points).
Step #3: Select the eligible transactions.
As a note, the eligible transactions will include any travel related purchases within 90 days. Capital One determines what does and does not count as an eligible travel transaction. However, from my experience, things like taxis, hotels, and airfare post. Car rentals are eligible, too.
You'll notice that each mile is worth one penny. Since you get two points per dollar spent, you are essentially earning 2% cash back.
Step #4: Click on 'Request Travel Credit'.
Within 3-4 days, the dollar value will be credited to your account.
Capital One® Venture® Rewards Credit Card Review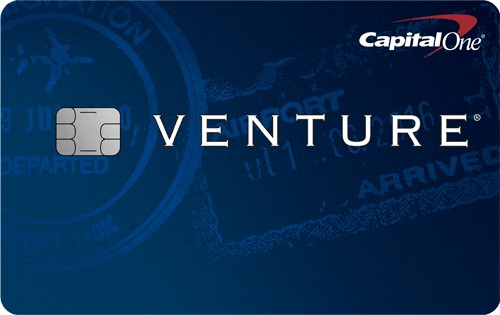 Enjoy a one-time bonus of 40,000 miles once you spend $3,000 on purchases within 3 months from account opening, equal to $400 in travel
Earn unlimited 2X miles per dollar on every purchase, every day
Fly any airline, stay at any hotel, anytime
Travel when you want with no blackout dates
Miles won't expire for the life of the account and there's no limit to how many you can earn
No foreign transaction fees
$0 intro annual fee for the first year; $59 after that
Get a metal Venture Card when you apply today
Capital One® Venture® Rewards Credit Card stands out among the travel credit card pack with one of the highest base travel rewards rates we know of, equal to 2%, when redeemed for travel statement credits. The card is, perhaps, best for travelers who want flexible travel rewards and who spend enough to justify a low annual fee. Capital One® Venture® Rewards Credit Card matches well with our high-quality, no-fuss credit card philosophy, which is why we rate it as one of the best travel credit cards.
What we like about Capital One® Venture® Rewards Credit Card
40,000 miles sign-up bonus – Qualifying new cardholders can earn 40,000 bonus miles - equal to $400 worth of travel-related statement credits - when spending at least $3,000 on purchases within three months of account opening.
Unlimited 2x miles per $1 – The card has one of the highest base travel rewards rates for all purchases of the cards we cover, equivalent to a 2% yield when miles are redeemed for travel-related purchases. Miles are also unlimited.
Statement credit redemptions – Redeeming miles for statement credits is a busy traveler's best friend, not to mention a potential money-saver for individuals scouring the internet for rock-bottom travel deals. Cardholders aren't tied to the card issuer's travel portal. You can book travel through Capital One's portal or book your travel elsewhere and apply miles for a statement credit later.
Partial statement credits – Miles can be redeemed for partial statement credits in increments that start at 2,500 miles, or $25. This is a feature some competing cards don't offer.
No foreign transaction fee – Pesky foreign transaction fees can quickly add up when whipping out credit cards for purchases abroad. Besides, we're all a bit looser with our wallets while on vacation. Fortunately, the card nixes the typical 3% foreign transaction fee many card issuers charge. That's a savings of $60 on $2,000 worth of international spending!
What could be improved for Capital One® Venture® Rewards Credit Card
Cash-back conversion rate – Miles redeemed for cash will be penalized with a low conversion value of $0.005 cents per mile, equivalent to 1% cash back, and half the value of travel redemptions. This low rate isn't necessarily a knock on the card: cash redemptions tend to be low for most travel cards. We simply prefer more generous, flexible redemption options across the board, and it's worth highlighting why choosing the right credit card for your needs is crucial. Read about our picks of the best cash-back credit cards for a few suggestions if cash back is your main priority.
How to best use Capital One® Venture® Rewards Credit Card
Travel rewards cardholders will generally be better off paying balances by the due date each month to avoid interest charges. It's a losing strategy to rack up debt for the sake of earning rewards at single-digit rates only to watch as they get eaten up by far higher double-digit interest charges.
Spend at least $3,000 in the first three months to qualify for the travel bonus valued at $400. Note that Capital One starts your three-month countdown timer upon application approval, not when you receive or activate your card.
Cardholders will need to spend at least $2,950 (59 ÷ 0.02) annually to break even on travel rewards after paying a $59 annual fee. Cardholders lose money to annual fees when spending less than that amount each year, so run your personal budget numbers to uncover what makes financial sense for you.
to learn why we think it's one of the best credit cards of 2017 as well.
The key difference from Capital One® Venture® Rewards Credit Card is that Barclaycard Arrival Plus™ World Elite MasterCard® earns 5% bonus miles when redeemed, on top of 2x miles per $1. Bonus miles can be applied for subsequent travel redemptions, giving Barclaycard Arrival Plus™ World Elite MasterCard® a slightly higher, all-in travel rewards rate. However, the card carries an $89 annual fee (waived the first year), which will require spending more on credit to offset the bigger annual fee. Read our full BarclaycardArrival Plus™ World Elite MasterCard® review to learn why we picked it as one of the best travel credit card sign-up bonuses.
You would think for every great feature there must be a trade-off. That isn't necessarily the case with Capital One® Venture® Rewards Credit Card. Notably, card issuers generally sneak in fees when offering the best benefits, but Capital One® Venture® Rewards Credit Card has a lower-than-average annual fee and high rewards, compared to competing travel cards.