Save over $300 on Machu Picchu with the LANPASS Visa
As Amol has been walking us through his awesome trip report to Easter Island and Machu Picchu, this reminds me of another reader who booked a similar trip and paid cash instead of redeeming miles. Not a problem — most of my flights are like that. My goal is to see how much I can save while still buying revenue tickets.
The LANPASS Visa card from US Bank offers a 20% discount on one LAN purchase each year (up to $1,000 savings on a purchase up to $5,000). That's a great deal if you're buying longhaul tickets to visit South America from the United States. Assuming you spend $800 per person to fly in economy class, you could easily save $320.
You also receive three (3) upgrade coupons. These are in addition to any you might earn as a LANPASS elite member, and since it took some digging to find the chart online, I've copied it below.
It takes three coupons for a one-way upgrade from the U.S. to Chile or Argentina. That means really only one person gets the upgrade, and only in one direction. Alternatively, flights to Ecuador require only one coupon in each direction. To really maximize the benefits of this card, you might be better off using it for a flight there.
Or, you could book your companion's flight using Avios points from your British Airways Visa and then purchase your own ticket with cash and apply an upgrade. You'd still get the 20% discount on your own ticket (and credit the award miles to a U.S. carrier's program), you'd save 50% by using Avios for the other person, and you wouldn't need to find award space for two people on the same itinerary.
Finally, the bonus miles. You get 20,000 LANPASS kilometers after first-use. That isn't a lot, and you're unlikely to be crediting many flights to LAN when you could choose other oneworld carriers or even Alaska Airlines for your domestic U.S. flights. Instead, check out the table I posted yesterday with different transfer options to top up your account. One of the best options is to transfer SPG Starpoints to get 50,000 kilometers in exchange for every 20,000 points (Starpoints transfer at a 1:2 ratio, and you get a bonus 5,000 Starpoints included in the transfer for every 20,000 from your own account).
LANPASS has a distance-based award chart much like Avios. For 10,000 LANPASS kilometers you can fly up to
800 miles one-way, which isn't a bad deal. That's like Seattle to San Francisco. Add some more LANPASS kilometers to your account from SPG and you can book a transcontinental ticket. Los Angeles to New York is just under 2,500 miles one-way, or about 4,000 flown kilometers. That award would require 27,000 LANPASS kilometers to book.
But like everything, the devil is in the details. The last reader who got this card did so at the time he booked his tickets. Unfortunately, most card benefits kick in only for future purchases made with the card since it takes time to process the application. If you think you'll be heading to South America soon, it might make sense to get the card now — with no annual fee for the first year. That way it'll be ready at the time of purchase.
LANPASS Visa Signature Card 20,000 Bonus Miles + 4,000 Bonus Miles With Annual Renewal

Sign up for a LANPASS Visa Signature Card and earn 20,000 bonus miles after just your first card use! With perks such as being able to receive 20% off a LATAM Airline purchases once each year or getting 3 one-way upgrade coupons to use each year, this credit card offers quite a few incentives that may appeal to you. For more information about this card please continue to read below.
Table of Contents
LANPASS Visa Signature Card Features
One LATAM Pass Mile for every eligible net $1 you spend
No Cap on Miles Earned
20,000 Bonus Miles after your first LANPASS credit card use
4,000 Bonus Miles with your annual renewal
Double Miles on LATAM Airlines ticket purchases
20% discount on LATAM Airlines purchase (up to $1,000) 1 time per year
25% flight miles bonus
3 one-way upgrade coupons per year
No Preset Spending Limit
Visa Signature Concierge
Premium offers
Special dining privileges
$0 introductory annual fee for the first 12 months, After that $75
LANPASS Visa Signature® Card: If you like what all this card has to offer, click this link to apply!
With this offer, you are eligible to earn bonus miles when you make your first purchase of account opening. If you meet this requirement, you will receive 20,000 bonus miles.
Every year after paying your annual fee, you will be awarded 4,000 bonus miles.
Enjoy 20% discount on first LAN or TAM purchase once a year up to $1,000. Each year you'll receive up to $1,000 discount on a purchase made with LAN or TAM affiliate carriers.
Earn 25% additional points on LAN airlines or affiliate carrier purchases. To get this 25% flight miles bonus again the next and following years, you'll need to spend at least $15,000 with your card during the year. Note that the 25% more miles will only apply to miles earned on all LAN purchases and purchases made on affiliate carriers.
Enjoy 3 upgrade coupons for one-way flights yearly. These upgrades have to be redeemed at the check-in desk, and you will only be able to use them if you spend at least $15,000 yearly on your card. Keep in mind that some routes might require you to pay a minimum fare as well, or might even require you to use several coupons to enjoy the upgrade.
With a LANPASS Visa Signature Card, it's nice to be able to receive 20,000 bonus miles for just using their card one time no matter what the purchase is. Although this card has an annual fee, it is waived the first 12 months of account opening and a few features that this credit card has to offer will offset the fee for most. For example, each year as a cardholder, you will receive 4,000 bonus miles (which pays for a little over half of annual fee) as well as a 20% discount on LATAM airline purchases and 3 one-way upgrade coupons to use within the year. All in all, like any other travel credit card, this card is a good fir for you if you are a loyal and frequent flyer of LAN or TAM airlines and are able to spend at least $15,000 yearly with it in order to take advantage of all the offered rewards it has to offer.
Provide feedback in the comment section below by telling us your thoughts and experience with this card. Make sure to visit BankDealGuy to explore more credit card bonuses.
Anthony Nguyen, founder of BankDealGuy.com, has a passion for finding the best bank deals and bank rates. With over 10 years of experience, he is dedicated to bring you the latest bank promotions! Contact Anthony for media/advertising.
Ohio, Michigan, Indiana, Pennsylvania, Kentucky, West Virginia, Illinois, & Wisconsin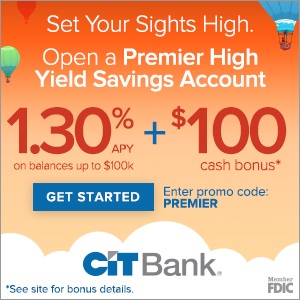 CIT Bank Premier High Yield Savings Account -Earn a $100 cash bonus when you open a savings account with a monthly balance of at least $15,000 and maintain that for 3 monthly statement cycles. Plus you'll get to enjoy a high savings account rate of 1.30% APY! Be sure to enter promo code PREMIER when opening a new account to earn your bonus and high APY! Apply Now – CIT Bank Review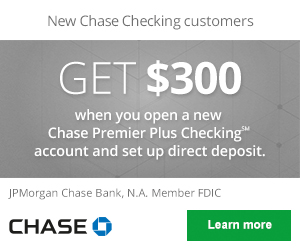 Chase Premier Plus Checking SM – Earn a $300 bonus when you open a new Chase Premier Plus Checking SM account and set up direct deposit. Banking with Chase gives you access to over 16,000 Chase ATMs and 5,100 branches. Get $300, more benefits, and earn interest on your new Chase checking account. Discover the benefits today! Apply Now — Review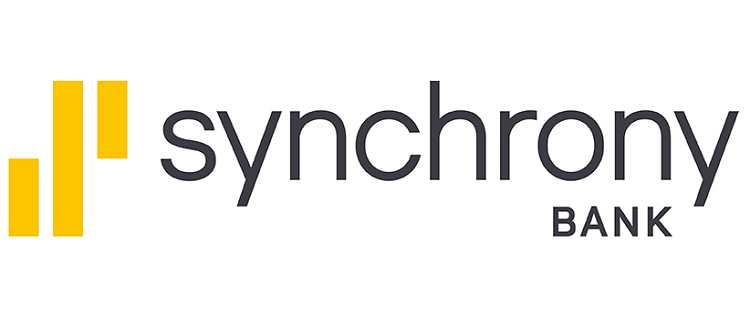 Synchrony High Yield Savings Account – Available nationwide, Synchrony Bank is offering you 1.20% APY on your funds with a new High Yields Savings Account. Have peace of mind knowing your funds is FDIC Insured. Apply Now— Review
TD Bank Premier Checking – Earn $300 bonus when you set up $2,500 in direct deposits within 60 days. Earn interest, enjoy free perks and pay no ATM fees anywhere you go. Apply Now— Review
TD Bank Convenience Checking – Earn a $150 bonus when you set up $500 in direct deposits within 60 days. No maintenance fee when you keep a low minimum balance, plus great discounts. Apply Now— Review
Barclaycard CashForward TM World Mastercard ® – Upon approval, you can earn a $200 bonus after completing $1,000 in purchases in the first 90 days after account opening. Earn 1.5% cash back for all purchases. Apply Now— Review
Barclaycard Arrival Plus TM World Elite Mastercard ® – Upon approval, you can earn 50,000 Bonus Miles after completing $3,000 in purchases within 90 days of account opening. Apply Now— Review